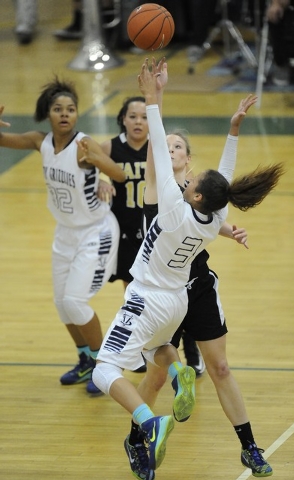 A fan in the Spring Valley cheering section held up a poster that read "Fear the Finish" on a handful of occasions during the first three quarters of the Division I-A Southern Region girls basketball title game.
The sign proved prophetic.
Freshman Essence Booker finished with 36 points, and the host Grizzlies used a 24-0 fourth-quarter surge to rally for a 63-55 victory over Faith Lutheran on Saturday.
It is the first region title for Spring Valley (28-1), which advances to the Division I-A state tournament after winning one game last season. The Grizzlies will meet Elko in the semifinals at 6:20 p.m. Friday at Silverado.
Faith Lutheran (22-6) also advanced to the state tournament and will play defending state champion Lowry at 3 p.m. Friday at Silverado.
"I wanted to be a part of the turnaround. I wanted to make it happen," said Booker, who also had six rebounds and six steals. "Anything's possible, and even if we started out (the season) good, we wanted to come out stronger and finish."
Fellow freshman Kayla Harris added 15 points for Spring Valley, which overcame shaky shooting (18-for-63) by capitalizing on 26 Crusaders turnovers.
Faith Lutheran went ahead 46-36 when Casey Proctor went coast to coast after a steal with 6:14 to play. But the Crusaders, who lost to Spring Valley twice during the regular season, didn't score again until Madison Bocobo's three-point play with 43 seconds left cut the Grizzlies' lead to 60-49.
Booker ignited the decisive run with a 3-pointer — the Grizzlies were 3-for-22 on 3-pointers to that point — and scored 18 points in the fourth quarter. Her basket after Harris' steal tied the game at 46 with 4:59 left, and Booker converted after a steal by Bria Hardin-Davidson to put the Grizzlies up 51-46 a minute later.
"I've said it all year long that we are going to continue to do what we do," Spring Valley coach Billy Hemberger said. "Yeah, the first quarter, the second quarter, our press wasn't working at all. But we talked about it and stayed consistent in it, and eventually we wear people down."
Morgan Hill led Faith Lutheran with 22 points. Haley Vinson had eight points, 11 rebounds and four assists, and Kim Munro had seven points and 12 rebounds.
The teams combined to shoot 7-for-37 in the first quarter before Faith Lutheran used a 9-0 second-quarter spurt to take a 26-21 lead at halftime. The Crusaders then closed the third quarter on a 10-1 run as Bobbi Tharaldson (nine points) made a 3-pointer with five seconds left to give Faith Lutheran a 42-34 lead.
"They were on fire, and they're a great team," Hemberger said. "The law of averages was going to pan out eventually. And sure enough, they started missing shots and we were able to get out and run."
Contact reporter David Schoen at dschoen@reviewjournal.com or 702-387-5203. Follow him on twitter @DavidSchoenLVRJ.
Box score:
Spring Valley 63, Faith Lutheran 55