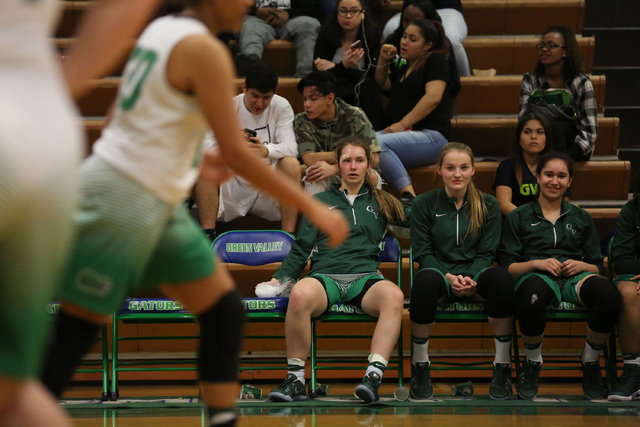 Coronado senior Payton Caci jogged over to Green Valley coach Eric Johnston before their teams faced off in a key Southeast League girls basketball game Wednesday.
"Last time," Johnston said before the two shared a hug.
Caci, with the help of teammate Haley Tyrell, made her final visit to Gator Country a memorable one.
Caci scored a game-high 22 points, and Tyrell finished one assist short of a triple-double, as the Cougars defeated rival Green Valley 70-57.
"Tyrell didn't come out at all, and I think I rotated Caci out one time," Coronado coach Rich Santigate said. "Those are the two horses we have. … They've been playing together now for a while, and we run a lot of stuff through them to make sure they touch the ball."
Caci, who had six rebounds, four assists and four steals, scored 12 points in the first half, and Coronado closed the second quarter on a 15-2 run to grab a 39-26 halftime lead.
The Cougars led by double digits for most of the second half, as Green Valley struggled offensively without leading scorer Brooke Haney, who was knocked out of the game with 5:04 left in the second quarter when her eye was cut open on a loose ball.
"Tough," Santigate said of the injury. "She's their heart and soul. We prepare for her every time, but that was kind of a freakish play."
Coronado led 18-17 at the time of the injury but quickly pulled away. Tia Thornton hit two 3-pointers to build a lead, and Caci and Tyrell did the rest.
Tyrell, a junior, finished with 14 points, 16 rebounds and nine assists for Coronado (12-13, 5-3), which overtook Green Valley for third place with two league games remaining. The Cougars could move into second place and host a playoff game if they defeat Foothill (14-8, 6-2) at home Tuesday.
Santigate said he will deliver the same message that he gave his girls against Green Valley.
"I told them, 'Every game you win now, you can gain a spot,'" he said. "It's a playoff game. Everything is going to determine a seeding. We're playing good at the right time. That's what you want to do going into the playoffs."
Thornton and Aeryn Hawkins each scored 11 for Coronado.
Samara Miller led Green Valley with 21 points and 20 rebounds. Temerity Bauer scored 10 for the Gators (13-13, 3-5).
Contact reporter Ashton Ferguson at aferguson@reviewjournal.com or 702-383-0430. Follow @af_ferguson on Twitter.
Box score: