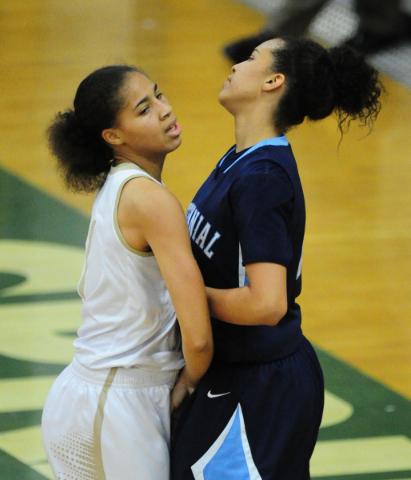 Tanjanae Wells launched a wide-open 3-pointer at the end of the first half, and as the ball started its descent, Centennial girls basketball coach Karen Weitz turned her back and started to walk away.
With the way the Bulldogs were shooting Thursday, Weitz didn't need to see whether Wells' shot went in.
She already knew.
Top-ranked Centennial made 12 3-pointers and rolled to an 89-49 victory over host Spring Valley in a marquee matchup between reigning state champions.
Bailey Thomas, a West Virginia signee, made seven 3s and finished with 25 points to lead the defending Division I state champion Bulldogs (16-1), who are No. 7 in the latest USA Today Super 25 rankings.
"I think we've got about four or five really solid 3-point shooters, and for a high school girls basketball team, that's pretty tough to say," Weitz said. "We have three of them that are shooting over 40 percent from the 3-point line. That's like a collegiate-level percentage."
Samantha Thomas had 15 points, eight rebounds, four assists and six blocked shots, and Pam Wilmore added 12 points, seven rebounds, five assists and four steals as 10 players scored for Centennial.
The Bulldogs' relentless defense forced 27 turnovers and held Spring Valley (13-3), No. 4 in the Southern Nevada coaches' poll, to 33.3 percent shooting from the field.
Kayla Harris finished with 24 points, and Essence Booker scored 17 for the defending Division I-A state champion Grizzlies.
"I am a little bit frustrated because I felt like at times things that we practice and work very hard at, we didn't execute well tonight," Weitz said. "It wasn't a disruption of anything. It's stuff that we want to do."
Bailey Thomas, who notched five rebounds, four assists and three steals, made four 3-pointers and had 14 points in the second half. Centennial was 12-for-31 from behind the 3-point line overall.
Centennial closed the first quarter on a 14-2 run and ended the second quarter on a 17-1 surge after the Grizzlies crept as close as 29-24.
Wells, who finished with 10 points, had a steal and layup late in the half before her 3-pointer at the buzzer gave the Bulldogs a 46-25 halftime lead.
"You're going to have runs in games; you've just got to sit around and wait for them sometimes," Weitz said. "Sometimes being patient to wait for runs is hard to do, but it's what you've got to do."
Willmore scored eight points in the third quarter as Centennial took a 63-36 lead, and she went coast to coast for a layup midway through the fourth that put the Bulldogs ahead by 30 points.
"She's a point guard that I've had for a lot of years," Weitz said. "We definitely look for leadership from her being a junior and running things."
Contact reporter David Schoen at dschoen@reviewjournal.com or 702-387-5203. Follow him on Twitter: @DavidSchoenLVRJ
Box score:
Centennial 89, Spring Valley 49