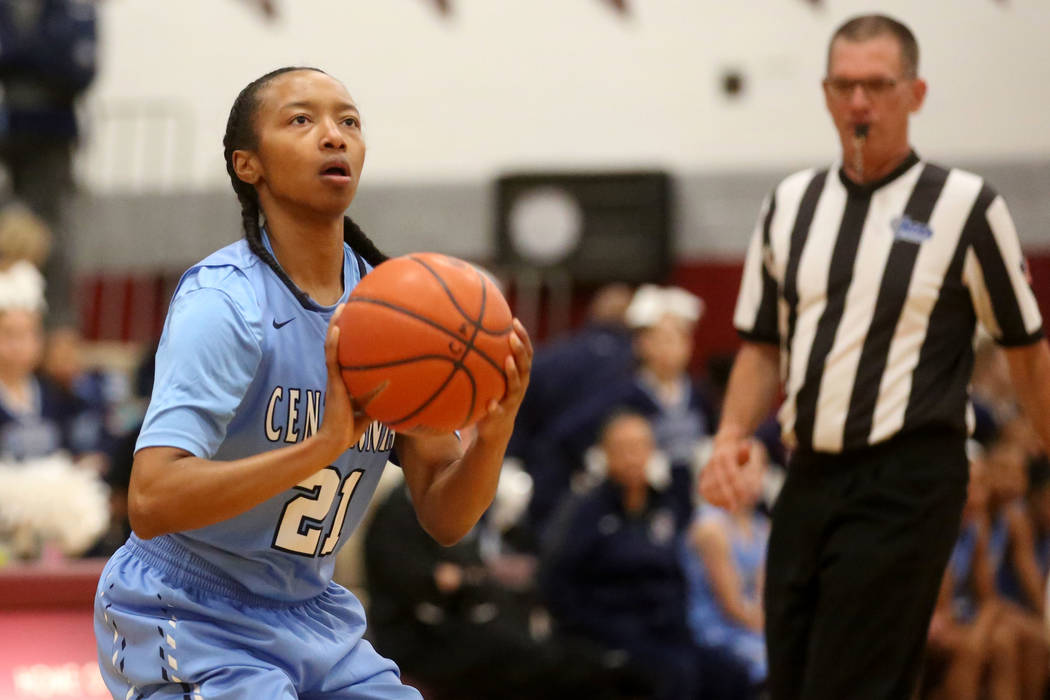 Karen Weitz is a proud UNLV alumna, having thrived on the school's track and field team before graduating in 1992.
The longtime Centennial girls basketball coach vividly remembers her javelin throwing days while Jerry Tarkanian led the Rebels to the 1990 NCAA basketball title — a time when locals were "driving around, honking horns, waiting to buy T-shirts the next day."
And now Weitz, in her 18th season at Centennial, has three more reasons to be delighted with her alma mater.
Justice Ethridge. Melanie Isbell. And Bailey Thomas.
Two current and one former player, all of whom will suit up for the Lady Rebels with high expectations under coach Kathy Olivier.
"I'm excited for them to be going there," said Weitz, whose Bulldogs have won the past three Class 4A state titles and are favored to repeat this season. "They will definitely be a good combo. … They'll be familiar with each other, if nothing else."
That they will.
Ethridge (senior), Isbell (junior) and Thomas (Class of 2016) helped Centennial blossom into a national powerhouse the past few seasons under Weitz. Since 2015, the Bulldogs have lost to only one Nevada opponent, compiled a 94-5 record, and were — for a brief moment in February — the nation's No. 1 team.
The three are expected to carry over that winning tradition at UNLV.
"Coach K.O. knows how (Weitz) breeds us," said Isbell, a 5-foot-4-inch point guard who averaged 8.0 points, 4.0 rebounds, 4.0 assists and 3.0 steals last season en route to earning second-team all-state honors. "She knows she gets us ready for college. She knows we'll be ready. We're looking forward to working hard and trying to make big appearances as a team and city."
For Ethridge and Isbell, though, first comes high school. Thomas, who played sparingly at West Virginia last season, transferred in April but has to sit out a year because of NCAA transfer rules. The 5-9 guard will have three years of eligibility remaining.
"It'll be fun to have all three of us together again," said Ethridge, smiling.
The 5-8 Ethridge, a three-time all-state performer, is the prized recruit for UNLV. She is the nation's No. 91 prospect in the Class of 2018, according to ESPN's HoopGurlz rankings, and will be Weitz's first player to sign with the Lady Rebels out of high school — and just the fourth local player in Olivier's 10-year tenure
Weitz recalled the conversation she had with Ethridge about whether she would choose UNLV over scholarship offers from Georgetown, Hawaii, San Diego and San Francisco.
"She said, 'Yeah, Coach.' And I was like, 'Gosh, finally!' " Weitz said. "But ultimately, really, I try to stay out of it. I just try to make sure we find a good fit for our kids."
Ethridge averaged 13 points, 4.0 rebounds, 2.0 assists and 3.0 steals last season, and set a state tournament record with six 3-pointers in the state final. She committed to the Lady Rebels in August and was joined by Isbell a week later.
Both praised the Lady Rebels' coaching staff for its "energy" and "good vibes" and said they wanted to stay home to play in front of friends and family.
Isbell committed to UNLV over Hawaii and Pepperdine — forgoing the beautiful beaches, weather and palm trees of Honolulu and Malibu.
Why?
"Malibu — it's beautiful," Isbell said. "Hometown, though. Hometown. … I just really love UNLV."
Contact reporter Ashton Ferguson at aferguson@reviewjournal.com or 702-383-0430. Follow @af_ferguson on Twitter.