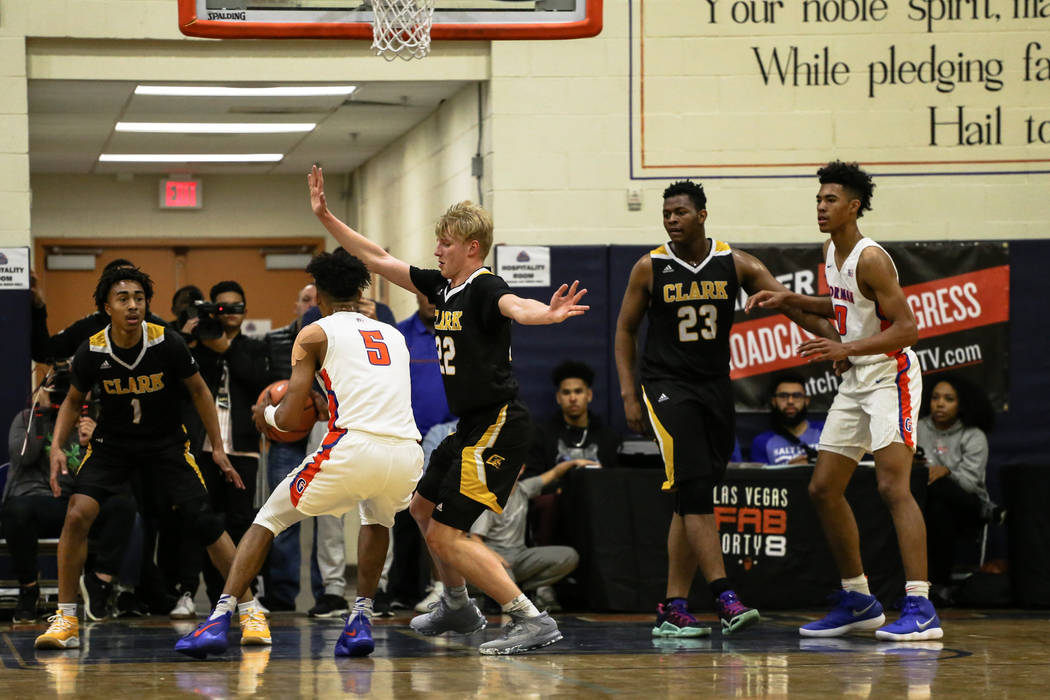 Trey Woodbury, who was dismissed from Clark High School's basketball team Monday, will remain part of UNLV's recruiting class, sources close to the Rebels' program said Wednesday.
UNLV coach Marvin Menzies was unavailable for comment Wednesday afternoon. The Rebels will play San Jose State at 8 p.m. at the Thomas & Mack Center.
Woodbury, a 6-foot-4-inch guard, became the first member of the current UNLV recruiting class when he committed July 31. He signed in November.
Clark coach Chad Beeten said Tuesday night that Woodbury had broken a rule, violating a contract the player agreed to with the team.
"So there's consequences to breaking the rules and accountability to his actions," Beeten said. "So he's no longer with the team."
Woodbury is ranked as a four-star recruit by 247Sports and a three-star prospect by the website's composite ratings, which is an index based on a compilation of various recruiting sites. He is ranked No. 112 nationally by the website and No. 148 by its composite formula.
Along with UNLV, Woodbury received scholarship offers from Arizona State, Southern California, Utah State, Air Force and Texas Christian, among others.
He averaged 14.1 points, 3.2 rebounds and 2.4 assists last season in leading the Chargers to the Class 4A state championship game against Bishop Gorman. Clark lost 61-55 to Gorman on Tuesday without Woodbury in the lineup.
Contact Mark Anderson at manderson@reviewjournal.com. Follow @markanderson65 on Twitter.