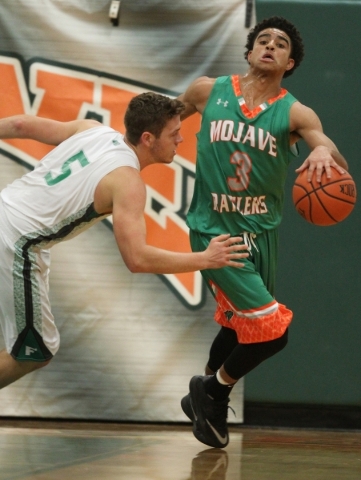 The motto for Mojave's boys basketball team this season is "Start fast, finish strong."
Senior guard Daryl Adams took that to heart Thursday.
Adams had 11 of his game-high 27 points in the first quarter and then helped the host Rattlers pull away in the fourth quarter of their 56-34 victory over Churchill County in the opening round of the Legacy Tip-Off Classic.
"I'm very pleased with my guys," Mojave coach Colin Darfour said. "We have some new guys on varsity that are picking up our things quickly and getting into the swing of things. I'm proud of the guys."
Richard Edwards added nine points, 13 rebounds and two blocked shots for the Rattlers (1-0), who will take on Silverado or St. Aloysius College (Australia) in a winners' bracket game at 5 p.m. today at Mojave.
Mojave led by as many as 18 points in the first half before the Greenwave (0-1) chipped away at the deficit. Clay Davison scored nine straight Churchill County points in the third quarter to help cut the Rattlers' lead to 36-28.
Mojave led 40-30 early in the fourth quarter but went on a 13-2 spurt to pull away. Adams started the run and also hit a 3-pointer to give the Rattlers a 47-30 advantage with 5:26 remaining.
"We talk about basketball being a game of runs, and we talk about other teams having heart and not giving up. We're not the only warriors in town," Darfour said. "We know that teams are going to make their runs. We just try to be ready for the run and try to respond to it when it happens."
Davison notched 16 points, nine rebounds and four blocks, but the Rattlers' trapping defense forced 21 turnovers and limited Churchill County to 32.6 percent shooting from the field (14 of 43).
"There were times when we didn't make the proper rotation or we gambled and got ourselves in trouble," Darfour said. "But overall, I think the guys played hard, and what they lacked sometimes with the rotation, they made up for with hustle."
Adams, who also had six steals, five rebounds and two assists, made a step-back 3-pointer and then converted a three-point play to give the Rattlers a 15-4 first-quarter lead.
He finished the half with 17 points as Mojave led 28-15 at halftime despite making only three of its 17 shots in the second quarter.
"Daryl had a great impact early," Darfour said. "The best thing about him is he's a good leader on the floor. He didn't have a stellar game, but he had a decent game."
Del Sol 60, Canyon View (Utah) 54 — At Mojave, Jamal McGruder led five double-figure scorers with 13 points, and the Dragons rallied to beat the Falcons.
Myles Dunn had 12 points, and Bo Beagle scored 12, including the go-ahead 3-pointer with a little more than two minutes remaining to put Del Sol on top 52-51.
Jonathan Spearman made two free throws with 25 seconds left, giving the Dragons a 58-54 lead, and he blocked Jacob Carrington's 3-point attempt with 10 seconds left.
Spearman finished with 11 points, and Malique Dunn added 10 points for Del Sol, which trailed 44-37 entering the fourth quarter.
Carrington led Canyon View with 13 points.
Coral Academy 60, Spring Valley 49 — At Mojave, Isaiah Spears made three of the Falcons' six 3-pointers and finished with 15 points in a win over the Grizzlies.
Kaleb Robinson had 14 points, and Brennan Rosales scored 10 for Coral Academy, which used a 28-12 run in third quarter to take a 54-21 lead.
Ryan Frazier led Spring Valley with 14 points. Eric Hansen had 12 points, and Phillip Labarre added 10 points for the Grizzlies, who outscored Coral Academy 28-6 in the fourth quarter.
Rancho 57, Chaparral 48 — At Mojave, Lamont Traylor had nine of his 12 points in the first quarter, and the Rams held off the Cowboys.
Keith Davis and Chrys Jackson each finished with 11 points for Rancho. Davis converted a three-point play with 2:11 to put the Rams on top 51-44, and hit two free throws with 55.2 seconds left gave Rancho a 54-46 cushion.
Ronnie Hicks led Chaparral with 12 points, and teammate Marcus Hilliard scored 11.
Centennial 76, St. Aloysius College (Australia) 24 — At Legacy, Nick Brown and Jake Hutchings each scored 16 points as the Bulldogs routed the Eagles.
Jamaal Evans added nine points for Centennial, who jumped out to a 35-8 first-quarter lead.
Harry Lidbetter scored 13 points to lead the Eagles.
Silverado 62, St. Aloysius College (Australia) 39 — At Legacy, Kris Coe led a balanced attack with nine points as the Skyhawks defeated the Eagles.
Trevor Bubonofich, Elijah Toussaint, Errol Newman and Matthew Arnold each added eight points for Silverado, which outscored St. Aloysius 23-5 in the third quarter to pull away.
Lidbitter had 19 points for the Eagles.
Legacy 66, Robert Bateman (Canada) 40 — At Legacy, Timothy Jeffries scored 20 points to lead the Longhorns to the win.
Eric Marlowe added 10 points for Legacy, which led 40-25 at the half.
Nate Friesen scored 10 points for Robert Bateman.
Shadow Ridge 82, Green Valley 77 — At Legacy, James Fuller scored 26 points as the Mustangs topped the Gators.
Jerrell Springer added 24 pionts, and Jamal Heidt scored 10 for Shadow Ridge, which outscored Green Valley 31-25 in the fourth quarter.
Green Valley's Xavier Jarvis led all scorers with 36 points. Canyon Lewis added 13 points for the Gators.
Clovis East (Calif.) 73, Palo Verde 67 — At Legacy, Trey Semien had 31 points to lead the Timberwolves over the Panthers.
Taylor Miller scored 23 to lead Palo Verde, and teammate Cole Hendershot had 18 points.
Wasatch Academy (Utah) 71, Sunrise Mountain 28 — At Legacy, Jackson Rowe had 16 points to pace the Tigers as they routed the Miners.
Rodney King led Sunrise Mountain with 11 points.
Box scores:
Centennial 76, St. Aloysius College (Australia) 24
Clovis East (Calif.) 73, Palo Verde 67
Coral Academy 60, Spring Valley 49
Del Sol 60, Canyon View (Utah) 54
Legacy 66, Robert Bateman (Canada) 40
Mojave 56, Churchill County 34
Shadow Ridge 82, Green Valley 77
Silverado 62, St. Aloysius College (Australia) 39
Wasatch Academy (Utah) 71, Sunrise Mountain 28