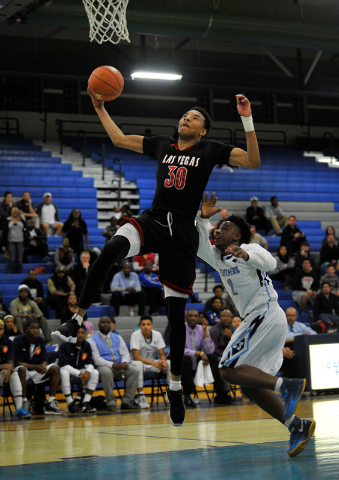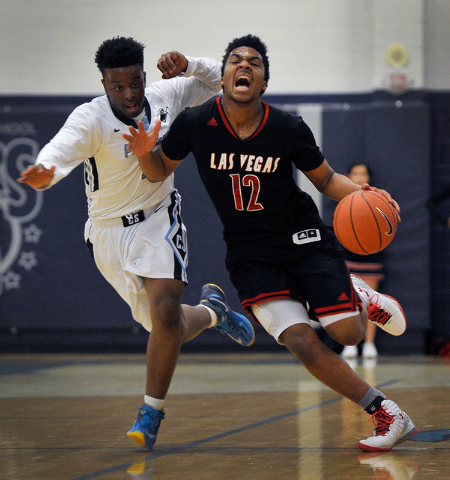 Las Vegas High's boys basketball team has some strong offensive options in senior guards Devon Colley and Patrick Savoy and high-flying junior forward Tyler Bey.
But when the Wildcats fell behind early on Monday, it was sophomore reserve Marquise Raybon who sparked a comeback. The 6-foot-5-inch Raybon had 10 points and 10 rebounds off the bench and made a pair of key first-quarter buckets as Las Vegas rolled to an 80-62 road win at Canyon Springs.
"He's getting more confident in his abilities, and he's a good basketball player," Las Vegas coach Jason Wilson said. "Our kids are trusting him more, so they're getting him touches and they're not concerned about passing him the ball."
After the Wildcats fell behind 9-2 early, Raybon helped spark the comeback. He went coast-to-coast for a layup after grabbing a rebound to cut the lead to 13-11, then gave the Wildcats their first lead with drive with five seconds to go in the first quarter that made it 16-15. Las Vegas wouldn't trail again.
It was the second straight strong game for Raybon, who had 13 points and six rebounds in a 71-69 win over Santa Monica (Calif.) on Saturday.
"Maybe I should have been playing him a little bit more early, but he's proved himself in practice, so now I'm getting to where I trust him," Wilson said. "And he's really giving us some big minutes down the stretch. He's playing with a lot of confidence."
Las Vegas didn't step off the gas once it got back into the game, extending its lead to 42-25 at the half. Tyler Bey then scored 10 of his game-high 23 points in the third quarter to help the Wildcats push their lead to as much as 21. Bey also had seven rebounds.
"Tyler, he's got that capability," Wilson said. "When he gets those big finishes, follow dunks, that gets our team going a little bit. He got a couple of those in the second quarter and really got our kids fired up."
Colley added 15 points and four assists, and Savoy had 14 points and five rebounds for Las Vegas. Will Loche added 10 points and nine rebounds for the Wildcats, who held a 42-36 advantage on the boards.
"We didn't give up a lot of transition points in the first half, and we knocked our shots down," Wilson said. "We wanted to keep them out of transition, make them jump shooters and we had to limit their second-chance opportunities and I thought we did a good job of that."
Jordan Davis had 20 points, six rebounds and six steals to lead Canyon Springs. D'Quan Crockett added 18 points and 11 rebounds for the Pioneers, who were just 21-for-67 (31.3 percent) from the field and 3-for-19 (15.8 percent) on 3-pointers.
Contact prep sports editor Damon Seiters at dseiters@reviewjournal.com or 702-380-4587. Follow him on Twitter: @DamonSeiters.
Box score:
Las Vegas 80, Canyon Springs 62