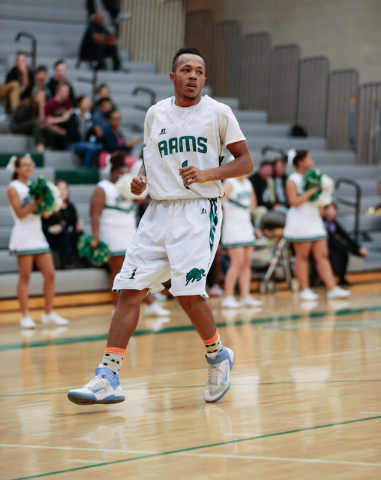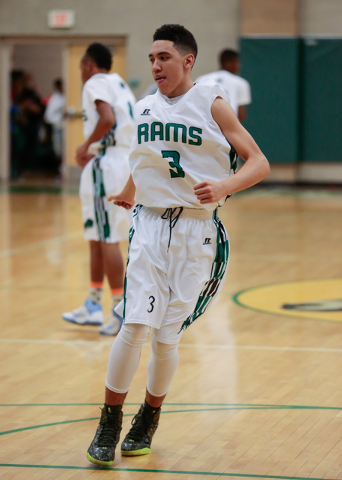 Ronald Childress is the first to say Rancho's boys basketball team still is in rebuilding mode.
But the second-year coach also would acknowledge his Rams are on the way to some exciting and unfamiliar territory. They just need to find an identity.
"They don't know their identity," said Childress, who previously coached at Silverado for five seasons. "They don't know their own game. They've got to smarten up and realize what their capabilities are. … A lot of people took notice when they saw us winning. But still, it won't be consistent until they have that identity. I'm trying to give them that. We'll be there."
Some would argue Rancho already is there with a 10-7 record this season, a mark that included a 6-1 start. The Rams, who have lost four games to out-of-state opponents, are primed to make their first playoff appearance since 2006.
It's been a pretty big jump for a team that was 6-20 a season ago and had not won a league game since 2011.
That all changed Friday when Rancho beat Southeast League opponent Green Valley 57-53. The Rams are one of six teams vying for four playoff spots.
"It's going to be a dogfight every night," Childress said. "And the team that wants it the most is going to get it. My guys have to get a little hungrier and just play with some pride."
Sophomore point guard Chrys Jackson (7.7 points per game), who combines with senior David McKeever (15.8 ppg) to lead a formidable backcourt, knows Rancho can turn around what's been one of the weaker programs in the valley and become an annual playoff contender.
"We're capable of it," Jackson said. "(The playoffs) will be big for us. It can only get better. … That's just our main goal right now, and we'll know when we meet it."
Though it looks like the playoff drought might end this season, Jackson understands that postseason play never is a sure thing.
It's also much tougher when no one knows which Rancho will show up: The team that beat Division I-A powerhouse Desert Pines (10-6), or the one that lost to Shadow Ridge (8-8) and edged Arbor View (5-13).
"That's what we need to find out," Jackson said. "Obviously, we're a team that can beat Desert Pines. We've just got to be consistent enough to bring that every night."
Jackson and junior forward Lamont Traylor will be the future of a promising Rancho team. But that future could be put on hold for the current Rams.
Traylor, who averages 10.1 points and more than 10 rebounds, has become quite a force in the post for Childress.
"He's the power of the team," Childress said. "He hurt his knee (earlier in the season), and we lost that game. He just needs to learn not to foul so much because he fouls out of every other game."
Traylor said: "I think we have a pretty good future. I don't think it's going to look like it did in the past."
Contact reporter Ashton Ferguson at aferguson@reviewjournal.com or 702-383-0430. Follow him on Twitter: @af_ferguson.