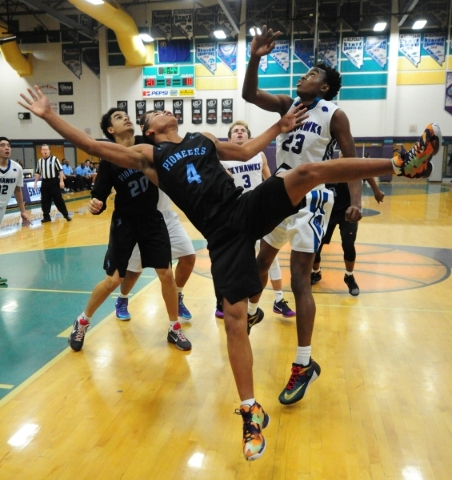 Effective defenses come in many different forms. Some teams use man-to-man pressure, others scramble and trap out of a zone.
Silverado's boys basketball team used a different tactic Thursday night, but it definitely worked.
The Skyhawks sat in a flat 3-2 zone, taking advantage of their length to disrupt Canyon Springs' offense. The Pioneers were 1-for-11 from the field to start the second half, allowing Silverado to take the edge on the way to a 57-51 home victory.
"Nothing fancy," first-year Silverado coach Shelby Jones said of his team's defense. "We would love to play man, but we've just had better luck with this with our length and contesting (shots). It's worked pretty well for us, and it's kind of become our bread and butter."
The ninth-ranked Skyhawks (15-5, 3-0 Northeast League) are a team of interchangeable parts, with four starters either 6 feet 3 inches tall or 6-4. They used that length to cover the perimeter, and packed the zone in tightly enough to slow Canyon Springs' penetration.
With the Pioneers (6-7, 1-1) struggling to make anything to start the second half, Silverado went on a 12-2 run to take a 37-27 lead after a bucket by Matt Arnold with 3:39 to go in the quarter.
"We really tried to keep them from penetrating to the basket," Jones said. "We gave up some of that early. And in the third quarter, that spurt we went on, I thought we did a better job of containing and contesting and limiting them to only one shot."
The Pioneers cut the lead to 41-38 on a post bucket by Jovan Coleman with 5:55 to play.
But Silverado answered with some baskets in transition. Jordan Waugh hit a 3-pointer to make the score 44-38, and Arnold had consecutive baskets, including a dunk with 3:02 to play that pushed the lead to 51-42.
Arnold, the team's leading scorer, picked up three quick fouls, exiting the game with 2:18 to go in the first quarter.
But reserve forward Devin Ross picked up the slack, scoring eight points in the second quarter and giving the team an inside presence as they rallied to tie the game at 25 at halftime. Ross also had four first-half rebounds.
"He was huge," Jones said. "He's upset because he didn't play in the second half, which he has a right to be. But I told him we don't win the game if he doesn't have the first half he did."
Tyric Johnson had 15 points, 11 rebounds and four assists to lead Silverado, which has a game-and-a-half lead over Canyon Springs and Liberty for first place in the league.
Arnold had 13 points, five rebounds and four blocked shots, and Errol Newman grabbed 11 rebounds for the Skyhawks, who went 1-23 last season.
"It's a buy in, it's a culture change, it's a little bit of luck, it's a little bit of confidence," Jones said of the team's improvement. "And when you start stringing a couple wins together, and you squeak out some tough ones early, your confidence just grows. We're just riding that wave right now."
Marlon Tatum hit five 3-pointers for 15 points to lead the Pioneers.
Contact prep sports editor Damon Seiters at 702-380-4587 or dseiters@reviewjournal.com. Follow him on Twitter: @DamonSeiters
Box score:
Silverado 57, Canyon Springs 51