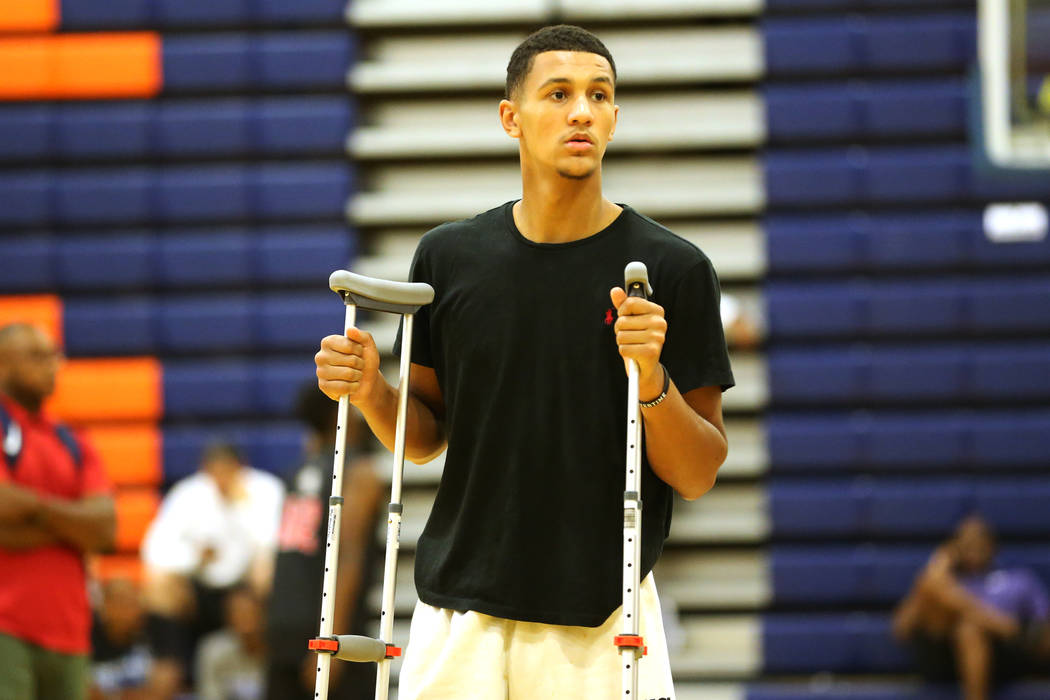 Jalen Suggs doesn't think the knee injury that knocked him out of the Fab 48 on Wednesday is serious. At least he hopes it's not.
Because football practice starts in two weeks.
Suggs, who plays club basketball for Grassroots Sizzle out of Minneapolis, is one of the top two-sport athletes in the country and has several Division I basketball and football scholarship offers.
On the court, he's an explosive five-star 6-foot-5-inch scoring guard with playmaking instincts and offers from the likes of Kansas and UCLA.
On the field, he's an explosive four-star dual-threat quarterback with playmaking instincts and offers from the likes of Ohio State and Nebraska.
"I just pick something that we need to work on, we perfect it, and once we perfect it we'll look to see where we can put it in play," said his father, Larry, who coaches his son's football and basketball teams. "We try not to waste any time."
Suggs grew up playing both sports — along with baseball — and as a seventh-grader emerged as the starting varsity point guard at Minnehaha Academy in Minneapolis. He became the starting varsity quarterback as a ninth-grader and has navigated a chaotic schedule throughout his prep career.
Baseball conflicts with AAU basketball, so he gave that up. But track and field doesn't, so he long jumps, triple jumps and high jumps.
From one sport to another.
All year long.
"It is rare, but I think it's a good thing because they both complement each other," Jalen Suggs said. "Each helps my game. Basketball helps football. Football helps basketball. I'm in love with them both."
The younger Suggs shoots 800 to 1,000 shots a day during football season to stay sharp, but he doesn't play competitively during those four or so months. The other eight months are focused on basketball with elements of football and track mixed in.
He attended several collegiate football camps during the summer and won a gold medal with USA Basketball's under-17 team this month before coming to Las Vegas, where he landed awkwardly after a floater Wednesday and hasn't played since.
Suggs consulted with NBA doctors at USA Basketball's minicamp and suspects a meniscus injury. He'll have an MRI on Tuesday to confirm the severity.
"Being on the sideline is tough, but I've got to stay in and stay involved because my teammates need me and my dad needs my help coaching," he said. "I can't let the injury bring me down because I still have stuff to do."
Team Takeover wins title
Nike champion Team Takeover of Washington, D.C., lost to Adidas champion Compton Magic of Los Angeles in a showcase Wednesday at Bishop Gorman. But it redeemed itself in a big way.
Team Takeover coasted to a 75-66 win over Team CP3 to win The 8 — the elite portion of the Las Vegas Classic — Saturday at Spring Valley. Villanova recruit Justin Harris and Virginia recruit Casey Morrell are two of the team's standouts.
Knicks take their lumps
The Las Vegas Knicks concluded their summer with an 82-36 loss to second-ranked junior Jalen Green and EBO (California) on Saturday in the Rebound Hoops Vegas Finals.
The Knicks, led by Durango's Anthony Hunter, Faith Lutheran's Brevin Walter and former area standouts Nick Blake, Orlando Robinson and Sedrick Hammond, were one of two teams to beat Compton Magic during the travel season.
Contact reporter Sam Gordon at sgordon@reviewjournal.com. Follow @BySamGordon on Twitter.