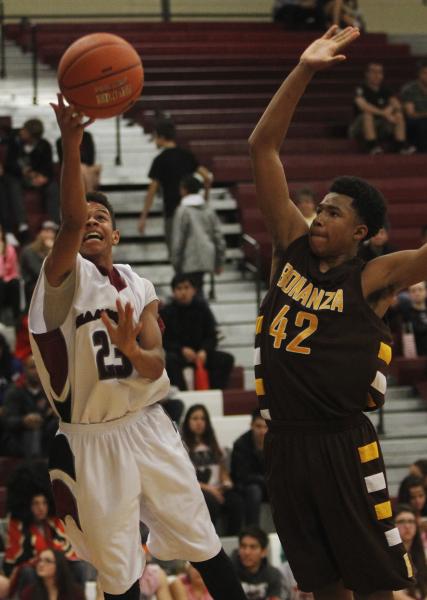 Ryan Fretz is in his first season as the boys basketball coach at Desert Oasis. But he still had the date memorized.
"February 8, 2012," Fretz said. "They didn't have a league win last year. The boys were hungry for that."
Rodrick Moore finished with 25 points, and the host Diamondbacks ended a 12-game Southwest League losing streak Friday with a 70-61 victory over Bonanza.
The league win was Desert Oasis' first since beating Pahrump Valley 69-61 in overtime on the date that Fretz had etched in his mind.
"On the back of our T-shirts, we have the whole 'One bite at a time,' " Fretz said. "Getting our first league win was one of our goals. Now that we've accomplished that, it's on to the next goal. We want to be competitive in league, and I think we can be."
Moore had 12 points in the fourth quarter for the Diamondbacks (13-7, 1-1 Southwest), and his bucket with 5 minutes, 6 seconds remaining put Desert Oasis ahead 56-53. Moore was fouled on the play and missed the free throw, but he snagged the rebound and scored with his left hand to cap a 10-0 run and give the Diamondbacks a five-point lead.
"When he plays under control, we play real well, and he played under control in the fourth quarter," Fretz said. "If there was one turning point, that could have been it. … For him to stay with it and get the rebound was huge."
Bonanza (7-8, 0-2) twice climbed to within one point, the final time coming at 60-59 on DeAndre Hicks' layup with 2:30 left. But Moore had six points in the final 1:14 as the Diamondbacks closed the game on a 10-2 spurt.
"Finishing was a big deal for us," Fretz said. "We did a lot better job keeping the ball out of the middle and forcing them to shoot jumpers to beat us. The guys on the floor really stepped up and took care of the ball and valued each possession."
The Bengals led 53-48 early in the fourth after Hicks' 8-foot jumper but committed eight turnovers in the final quarter and were held to 10 points.
Hicks paced Bonanza with 18 points, and DaVonta Price added 14 points, 10 rebounds and three blocked shots. Jamal Logan had seven of his 13 points in the third quarter as the Bengals closed on an 8-1 run to snag a 51-48 lead.
Box score: