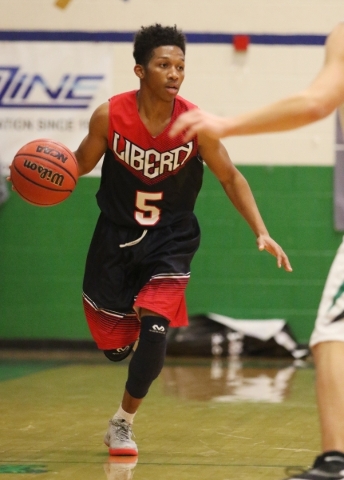 Xavier Jarvis picked up his third foul in the second quarter Tuesday, forcing Green Valley's top scoring threat to the bench for nearly five minutes.
The break turned out to be exactly what the senior guard needed.
Jarvis poured in 30 of his 38 points in the second half, and the host Gators rolled to an 84-65 victory over Liberty in a foul-plagued boys basketball game.
"He got into the rhythm. He carried us," Green Valley coach Lorenzo Jarvis said. "His energy was great. That was the one thing that got him going was his energy on defense. It started on defense, and it kind of got him going on offense."
Canyon Lewis had 16 points and 13 rebounds, and Isiah Macklin and Matthew Tuttle scored 10 apiece for the Gators (4-2), who harassed Liberty into 28 turnovers.
The teams combined to shoot 74 free throws as there were a total of 49 fouls, not including the two technicals assessed to the Patriots' coaches. Green Valley finished 34-for-49 from the free-throw line, led by Jarvis, who made 17 of 22 attempts.
Cameron Burist paced Liberty (0-3) with 15 points, and Braden Cain made four of the Patriots' 10 3-pointers to finish with 12 points.
Burist's 3-pointer cut the Gators' lead to 70-58 with 5:45 left. But Jarvis, who had 15 of Green Valley's 18 fourth-quarter points, took control and helped push the lead to 23 points late.
"We played really good defense," Lorenzo Jarvis said. "That's been our main focus this year is working on our defense, all summer long, getting that down. I was happy with it. We made some mental mistakes in the third quarter; we let the ball get in the middle. But overall, good effort."
Tuttle had nine points in the first quarter to help Green Valley jump to a 27-18 lead before Macklin, who has orally committed to San Diego State for football, provided two highlights in the second quarter.
The 6-foot-5-inch Macklin intercepted a pass at midcourt and threw down a breakaway jam 30 seconds into the quarter, then finished off a baseline move with a big dunk 1:20 before halftime.
The Patriots climbed within 43-36 after a 3-pointer by Kahlil DeRouen early in the third quarter, but the Gators answered with a 21-6 run that included three 3-pointers by Jarvis.
"I like that we didn't look at the scoreboard. We just kept playing," Lorenzo Jarvis said. "Even when they made a couple runs, we just kept going at them. We kept playing, and that's what we need. It's building steps for us. Every game, we're getting better as we go."
Contact reporter David Schoen at dschoen@reviewjournal.com or 702-387-5203. Follow him on Twitter: @DavidSchoenLVRJ
Box score: