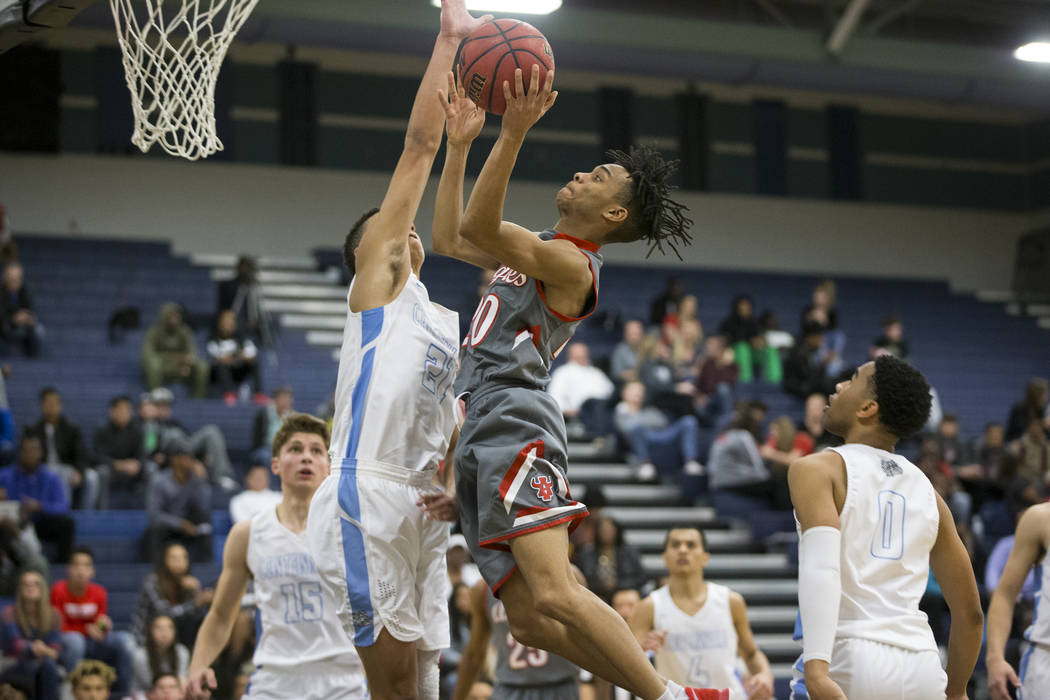 A raucous crowd packed the bleachers inside Centennial High School's gymnasium Wednesday night to watch the Bulldogs' boys basketball team play Arbor View in its first home game in more than a month.
Ishon Hardin made sure to put on a show.
Centennial's senior point guard connected on 10 of 11 free throws, and finished with a game-high 24 points to help the Bulldogs (12-6, 5-1 Northwest League) stave off the Aggies for a key 55-50 league victory.
"That's kind of been him as of late," Centennial coach Noah Hartsock said of Hardin. "A lot of close games, and he's been able to make some plays."
He made plenty on Wednesday.
The Bulldogs slowed Arbor View in the first half with a 1-3-1 zone defense, and capitalized on the Aggies' sloppy decisions. Hardin attacked the Aggies (13-6, 3-3) in the half court and in transition, and made six free throws in the second quarter to stake the Bulldogs to a 26-22 halftime lead.
Arbor View adjusted in the second half to find gaps in Centennial's zone, but couldn't pull away from the unrelenting Bulldogs, who took advantage of the double-bonus and attempted 18 free throws in the fourth quarter.
Hardin made four free throws down the stretch, and Centennial's crowd roared in approval as Aggies junior guard Tyre Williams missed a potential game-tying 3-pointer in the final seconds.
Jarrod Burks and Favor Chukwukelu each scored 13 points to lead Arbor View.
Hardin was satsified with his output and the victory.
"The home crowd helped out a lot," Hardin said. "This is like our first home game since (mid-December). It was great."
Contact reporter Sam Gordon at sgordon@reviewjournal.com. Follow @BySamGordon on Twitter.
Box score: