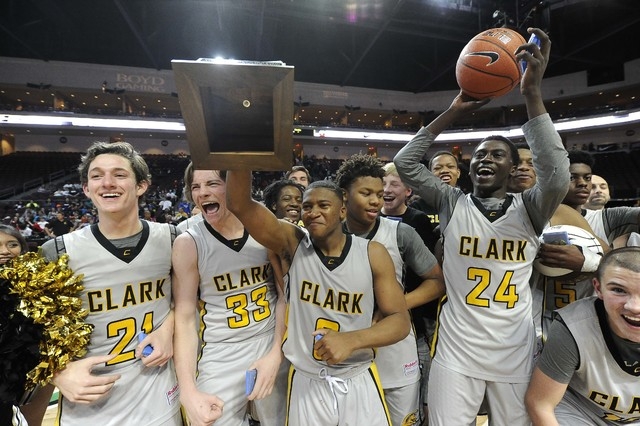 Clark didn't run a set play during the second half Saturday at Orleans Arena.
The Chargers didn't need to.
Colby Jackson scored all 16 of his points during the second half, and Clark beat Desert Pines 62-46 to win its second consecutive Division I-A boys state basketball title.
"I don't remember calling a play in the second half, but I do remember those kids out there figuring out a way to execute and make plays," Clark coach Chad Beeten said. "It's not about running plays, it's about making plays. And they made plays tonight."
Desert Pines (22-10) trailed 21-13 at halftime, and the Jaguars came out in a full-court press to start the second half. It didn't bother Clark (23-8), which turned over the ball only twice in the half.
"When we got them a little back on their heels and they couldn't score in the halfcourt, we knew they were going to come out and get us because that's how they get their offense (is) off their defense," Beeten said. "We wanted to make sure we spaced the floor out and attacked."
Jackson scored 11 points in the third quarter as the Chargers pushed their lead to 36-24.
"I didn't want to lose," said Jackson, a four-year starter at point guard. "I don't like losing. I knew they were doubling me, so I had to play off the ball. That really helped, actually, because Keyshaun Webb took control of the tempo, and I just had to go get it when it was time to get it."
Webb scored 12 of his 16 points during the fourth quarter to help Clark close out the win. The Chargers avenged a 59-57 loss to Desert Pines in the 2013 title game.
"It's a really great feeling — back-to-back champs," Jackson said. "This is like revenge, because sophomore year we lost the game that year."
Darius Jackson and Ty'Rek Wells didn't do much offensively, combining for 14 points. But Clark's two starting forwards did the dirty work inside, each finishing in double figures in rebounding. Darius Jackson, a 6-foot-4-inch junior, had a game-high 13 rebounds, and the 6-3 Wells added 10.
"About six weeks ago, when we looked like we were dead in the water, just barely above .500, I said, 'Listen, the only thing that's going to keep you guys away from being a championship team is rebounding, because we don't have the size we've had in the past,'" Beeten said. "And they took it to heart."
Clark struggled offensively early, but freshman James Bridges came off the bench and was 3 for 3 on 3-pointers in the first 2:39 of the second quarter to help the Chargers build an 18-13 lead, and they wouldn't trail again.
"We were maybe a little bit tentative when they jumped out on us 6-0," Beeten said. "But he kind of settled us in. Once he started making shots, everybody else kind of followed through."
Coby Myles led Desert Pines with 18 points. Jalen Graves added 11 points and six rebounds, all in the second half, off the bench.
"Honestly, I'm more relieved than anything else today, because I wanted those seniors to go out like that," Beeten said. "They've meant everything to the program."
Contact prep sports editor Damon Seiters at dseiters@reviewjournal.com or 702-380-4587. Follow him on Twitter: @DamonSeiters.
Box score: