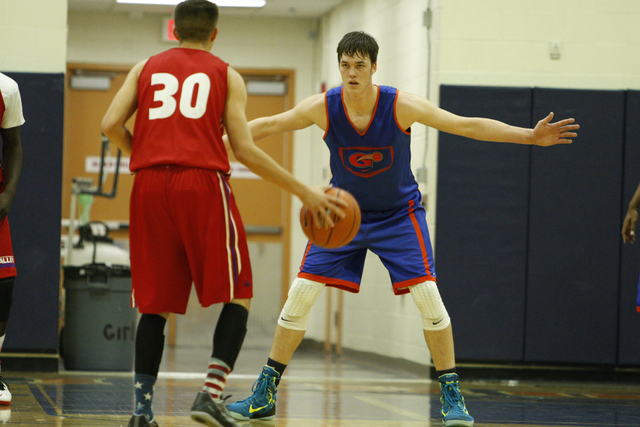 Zach Collins would be the focal point for most high school basketball programs.
At Bishop Gorman, the 6-foot-11-inch junior is No. 3 on the depth chart in the post.
The Gaels, who feature top seniors Chase Jeter (6-11) and Stephen Zimmerman (7-0), boast an incredible amount of size for a high school team, and that's a big reason the Gaels are ranked No. 4 in the nation by USA Today to start the season.
"It's great," Collins said of sharing time in the post with Jeter and Zimmerman. "Most people think it's a bad thing, but I look at it as a blessing because I get to go up against two All-Americans every day in practice. I get a lot better from it, personally. And in a game, when we all pass to each other and we're all unselfish with each other, we're unstoppable."
The Gaels open the season at 8:30 p.m. Saturday in Newark, Calif., against No. 16 Bishop O'Dowd (Calif.), one of three teams to beat Gorman last season.
Jeter, who averaged 14.7 points and 10.6 rebounds last season, is the No. 8 prospect in the senior class, according to Rivals.com, and has signed with Duke. Zimmerman (15.2 points, 10.2 rebounds) is the No. 10 prospect, and is deciding between Arizona, Kansas, Kentucky, UCLA and UNLV. Collins, though he has yet to be a starter at the varsity level, holds more than a dozen college offers. He's the No. 57 prospect in the junior class, according to Rivals.
"It's definitely unusual," Gorman coach Grant Rice said of the team's size. "It's probably something that we won't see in high school again in Las Vegas, let alone who knows where."
Small forward Nick Blair (10.5 points, 6.4 rebounds) also is back on the front line for Gorman. The Gaels feature nine players 6-5 or taller. By comparison, UNLV has eight such players on its roster, and only one who stands 6-11.
Having multiple big men means Rice won't have to worry much about foul trouble. And it makes for constant competition in practice, during which the big guys go up against players their own size, something most high school programs couldn't pull off.
"We're doing stuff that most colleges don't even have for their big guys to go against each other in practice," Jeter said. "Being able to have guys to compete with in practice and be able to challenge yourself each day and get better has definitely worked to our advantage so far."
Zimmerman said that's been especially true for Collins, who has grown 5 inches since his freshman year. The junior has always had a top-ranked post player to push him in practice.
"It's a real blessing, especially for Zach, with him being young and being able to go against me and Chase every day," Zimmerman said.
Collins said the seniors never make things easy on him.
"I feel like my game has really gotten to where it is now because of going up against them in practice every day," he said. "Just the challenge that they give every day in practice. They don't let anything go easy on the young guy. So it makes everything harder, but it makes me better."
Rice said he's working on lineups that include all three big men, a prospect that has Collins excited.
"Hopefully we do that this season, because I think it would be deadly," he said.
Gorman's biggest questions come in the backcourt, where they must replace point guard and Review-Journal state Player of the Year Noah Robotham (16.0 points, 7.1 assists), who was on the varsity for four seasons at Gorman and now is starting at Akron.
Rice said senior Richie Thornton will take over at the point, with junior Julian Payton helping out.
And if the guards can do their job, Jeter said he and the other big men will take care of their end.
"The sky's the limit with that," Jeter said. "Because we've got positions and weapons at every spot, and with the three bigs in at the same time, especially, it just creates defensive issues for opposing teams. We impose our will on other teams, and they just can't do anything about it."
Contact prep sports editor Damon Seiters at dseiters@reviewjournal.com or 702-380-4587. Follow him on Twitter: @DamonSeiters.
2014-15 Boys Basketball Preview Capsules