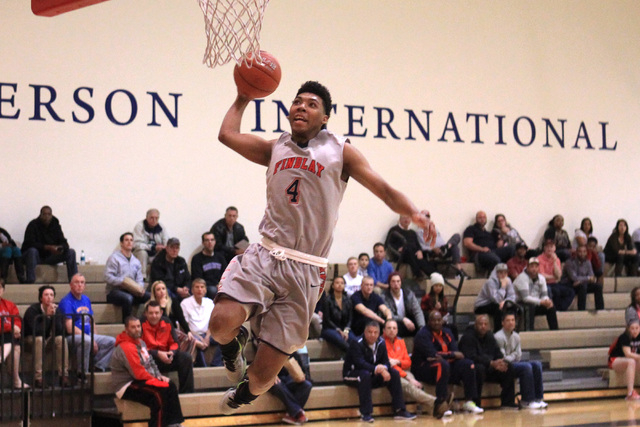 Allonzo Trier's answer came immediately, and with a burst of pride at the end.
"Seattle," Trier said when asked what he considers his hometown. "No doubt about it. Seattle, Washington."
Trier's basketball journey has been a circuitous one, spanning five cities and four states since he left the Pacific Northwest as an eighth-grader. His latest road stop is at Findlay Prep, where the 6-foot-5-inch senior shooting guard is the leading scorer for the nationally ranked Pilots.
"It's been different. I've gotten to see so many different states and things like that," Trier said. "I've played against competition everywhere. I've gotten battle-tested every place that I've been. I think I've answered the call at each one, and I think it's just really prepared me for future situations."
Trier first attracted the spotlight as a sixth-grader when he filmed a Powerade commercial with Carmelo Anthony, and his basketball career has played out in the public eye since he was in middle school.
Trier and his mother, Marcie, moved from Seattle to the Dallas area in 2010 and relocated to Oklahoma City later that year. Trier enrolled in online courses and starred for a home-school team, the Oklahoma City Storm.
His play drew the ire of opposing public school coaches, and the Oklahoma Secondary School Activities Association banned Trier from playing its member schools, citing a rule that prevents eighth-graders from playing at the high school varsity level.
Trier returned to the Storm as a freshman, and as a sophomore he attempted to transfer to Tulsa NOAH, another home-school power in Oklahoma. The National Christian Home School Championships Eligibility Advisory Board voted against the move, but Marcie soon moved to Tulsa for her son to become eligible, and he went on to average nearly 29 points per game.
"My family always had my back 100 percent," Trier said. "They stuck it out with me all through the ride, and I'm thankful for that."
Trier spent his junior season at Montrose Christian (Md.) and was named the Gatorade Maryland player of the year. He scored 33 points as the Mustangs rallied to beat Findlay Prep 63-61 at the Tarkanian Classic on Dec. 21, but said "an academic situation" prevented him from playing his senior season at the school.
Trier announced in the summer he was transferring to Findlay Prep, and he is averaging 33.6 points to go with 6.4 rebounds, 2.9 assists and 1.9 steals for the Pilots (7-0).
"It was very fortunate he joined our program, and we're very lucky to have him," first-year Findlay Prep coach Andy Johnson said. "He's got a lot of life experiences, and I definitely think that's helped him along the way, not just as a talented basketball player but as a person."
Trier had 27 points, six rebounds and three steals in a 92-52 victory over Westwind Prep (Ariz.) on Tuesday night at Henderson International. The Arizona signee was 9-for-11 from the floor — he made all six of his field goals in the second half — and finished 7-for-8 from the free-throw line.
"That's Allonzo," Johnson said. "He gets his points by not having to be a volume shooter. He's very efficient."
Trier said his unique experiences the past four-plus years helped him mature quickly. He is hoping to lead Findlay Prep, No. 6 in the USA Today Super 25 rankings, to a national championship before heading to Tucson, Ariz., for the next stop on his basketball journey.
"I think everything I've been through got me here now," Trier said. "I think I was put in a lot of situations that other people have been through, and I've gotten through them well. I think I've adapted to every single spot I've been to."
Contact reporter David Schoen at dschoen@reviewjournal.com or 702-387-5203. Follow him on Twitter: @DavidSchoenLVRJ.