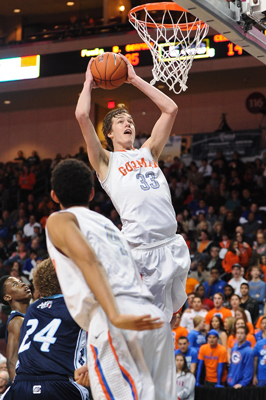 How do you stop two of the area's most prolific scorers?
For Bishop Gorman's boys basketball team, it was a last-minute defensive switch.
The Gaels decided to switch from a 2-3 zone to a 1-3-1 shortly before the Division I state final Friday.
The move paid off, as the Gaels kept Centennial's offense in check on the way to a 69-43 victory at Orleans Arena.
Gorman (29-3), which won the Class 4A state title last year, held Centennial to 18 points through three quarters, when high-scoring guards Marcus and Malcolm Allen combined for only 12 points.
"Mike Wright, my assistant, about 10 minutes before the game came up and said let's switch to the 1-3-1 because they're ready for the 2-3," Gorman coach Grant Rice said. "So we switched to the 1-3-1, and really shaded toward Marcus and Malcolm and just tried to make the other guys beat us."
Centennial looked lost against the zone, struggling to get easy shots and settling for outside jumpers. Centennial shot 8-for-47 from the field (17 percent) through three quarters. The Bulldogs (23-10) were 1-for-20 on 3-pointers at that point and finished 3-for-23 from the arc.
"Most definitely this is the best defense I've seen us play," Gaels senior guard Trey Kennedy said. "We came out hard. We weren't letting them get any second-chance points. That's what did it."
The first three meetings between the teams were decided by a total of 18 points, including an 80-78 Gorman win in the Sunset Region final. But this time, the Gaels had pushed the lead to 21 with 6:16 to go in the third quarter.
Gorman led by 32 in the third quarter, and held a 35-point lead after Chase Noma'aea's 3-pointer with 6:28 to play made it 57-22.
"I didn't know until I looked up," Kennedy said. "I looked up and we were up 30, and I was like, 'Wow!' We didn't even notice. We just kept playing hard."
Stephen Zimmerman had 18 points, 13 rebounds and seven blocked shots to lead Gorman. Stationed in the middle of the 1-3-1, the 7-foot sophomore was able to contest shots both inside and out, and also help the Gaels control the boards.
"Zim was awesome," Rice said.
The Gaels paired Zimmerman with 6-10 sophomore Chase Jeter for much of the second quarter, and it was effective on both ends. Jeter had eight points and four rebounds.
"When Jeter came in, it just gave us huge length," Rice said. "Chase Jeter and Stephen Zimmerman, they've really grown up in the last three, four weeks. Obviously the future's pretty bright with those guys in the middle for the next two years."
Kennedy had 15 points and four assists, and Noah Robotham had 14 points and five assists for the Gaels.
"Trey Kennedy, one of the most underrated players in the state," Rice said. "Trey does so much scoring, assists, rebounds and always defends the best player when we're playing man-to-man."
The Stanford-bound Allen twins had just 11 points at the half. The duo entered the state tournament combining to average 51 points.
"It made a statement, definitely," Kennedy said of the defensive effort. "People said we were going to lose this game, and they didn't know how it was going to be. We made a statement and let them know Gorman's going to be a team to look out for the next couple years."
Marcus Allen finished with 26 points, but scored 18 in the fourth quarter. Malcolm Allen scored six.
Gorman's rout was all the more impressive considering the small contribution by leading scorer Rashad Muhammad, who hurt his left hip in a 72-52 semifinal win over Hug on Thursday. He started Friday, but played little and didn't score.
"We had to make up for it, because Rashad's such a great player," Zimmerman said. "But I think we did really well."