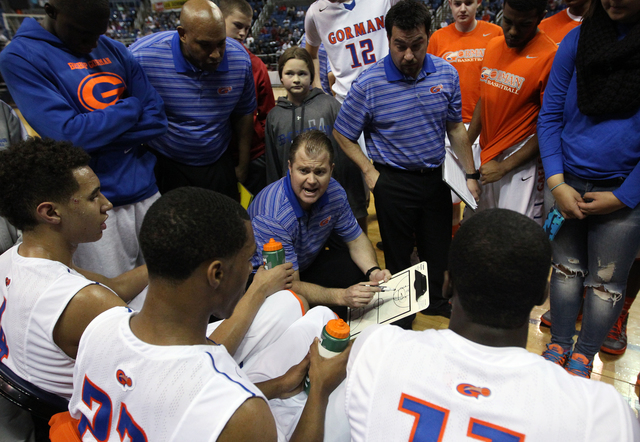 RENO — As good as Bishop Gorman big men Chase Jeter and Stephen Zimmerman are, it seems like they don't always play at their best at the same time.
In the third quarter Friday night, the twin towers showed just how dominant they can be.
Jeter and Zimmerman scored the first 10 points of the second half to help the Gaels extend their lead on the way to a 71-58 win over Canyon Springs in the Division I boys state championship game at Lawlor Events Center. It was the third consecutive state title for Gorman.
"They were both on," Gorman coach Grant Rice said. "You could see at halftime they were focused. And we just said either lay the ball up hard or go dunk the ball."
The 6-foot-10-inch Jeter finished with 21 points, 19 rebounds and four blocked shots for the Gaels (30-3), who led 33-27 at halftime.
The 7-foot Zimmerman scored seven of his 11 points during a 14-1 run to start the second half and essentially put the game away for Gorman. He finished with 13 rebounds, three blocks and four assists.
"Those guys, they get along so well off the court and work well on the court, too," Rice said. "They're the perfect complement to each other. Chase loves to play with his back to the basket, and then Zim works the high-low. They're perfect for each other."
And as good as they played early in the second half, Jeter thinks they've just scratched the surface.
"We've got so much room to grow and get better," he said. "What the future has in store is going to be excellent. We've just got to keep on working and stay together as boys and brothers and teammates."
Gorman went inside consistently to start the second half, and when Canyon Springs (25-5) collapsed, the Gaels found senior guard Obim Okeke in the corner.
Okeke hit two 3-pointers in the third quarter, the second pushing the Gorman lead to 50-33 with 2:51 to go in the period. Okeke was 4-for-5 on 3-pointers in the game and finished with 14 points.
"Obim Okeke, he's done that all year," Rice said. "He doesn't get the recognition he deserves, but he's been doing that all year.
"He hit several 3s, and that's what we talk about. Noah (Robotham) and Obim and Nick (Blair), they can all shoot the ball. But we like to look low first. We like to work it inside, and if it's not there, then on the kick out, that's a great shot."
"When you've got two 7-footers, you should throw the ball down low," Canyon Springs coach Freddie Banks said. "It looks like they've got 10 of them. When you've got that size, you should throw the ball down low.
"But my guys fought, they never gave up, and they played hard."
Senior point guard Noah Robotham finished with 12 points and three assists for the Gaels. He was playing in his fourth state tournament and completed his career with 112 wins after the Gaels picked up a forfeit from an early-season loss to Curie (Ill.).
"Noah Robotham, 112 wins now in his Gorman career, the most ever," Rice said. "Shabazz (Muhammad) had 111. Special kid, four-year varsity player, and I'm really proud of him."
Gorman led by as much as 25 points after a 360 dunk by Blair made the score 69-44 with 2:44 to play.
Blair finished with 11 points and nine rebounds. The Gaels subbed out their regulars after that, but ended up putting four starters back in with 1:11 to play after Canyon Springs had cut the lead to 71-54.
As dominant as Gorman has been, it was the first time the team has won three consecutive state championships.
"First team in school history to win three in a row," Jeter said. "It's a great feeling. We turned a lot of heads this year, and it's just a great feeling."
Canyon Springs seniors Gerad Davis and Shaquile Carr played well in their final game. Davis had 20 points and three blocked shots, and Carr had 16 points and three assists.
"It's heartbreaking for them," Banks said. "They just played well. A few things, mishaps like that, it makes a big difference. But you know what? They played hard tonight."
Contact prep sports editor Damon Seiters at 702-380-4587 or dseiters@reviewjournal.com. Follow @DamonSeiters on Twitter.
Box score:
Bishop Gorman 71, Canyon Springs 58