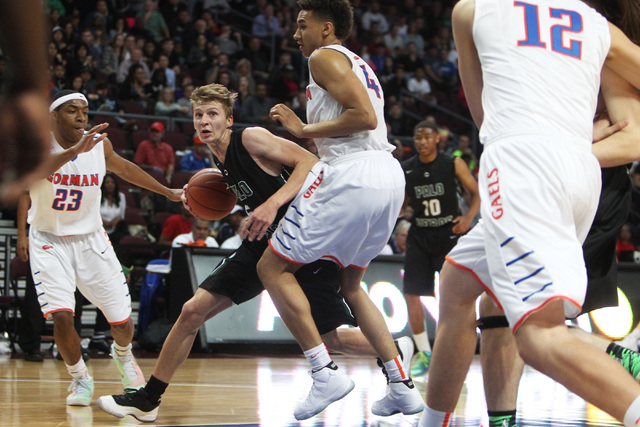 Things got interesting toward the end of the third quarter of the Division I boys state basketball championship game Friday night at Orleans Arena.
Palo Verde pulled within five points of heavily favored Bishop Gorman late in the third, but the Gaels quickly ended any doubt.
Gorman scored four points off turnovers in the final 20 seconds of the third quarter, then opened the fourth on an 8-0 run en route to a 74-54 win over the Panthers. It was the fourth consecutive state title for the Gaels.
"We played them four times, and we knew what to expect coming in," said Gorman big man Chase Jeter, who had 21 points, 13 rebounds and three blocked shots. "They fought hard, and for a second it was looking kind of scary. But we definitely pulled out on top. To finish like that is the best possible way we could have finished."
Grant Dressler's drive pulled the Panthers (21-10) within 41-35 with 1:10 left in the third quarter. But the Gaels (27-6) turned a turnover into a Richie Thornton layup with 20 seconds left in the quarter.
Julian Payton then got a steal and passed ahead to the 6-foot-11-inch Jeter for a slam with one second left in the quarter to push the lead to 10.
"That defensive spark there, those last two or three or four possessions (of the third quarter) really made a difference and definitely gave us the momentum heading into the fourth quarter," Gorman coach Grant Rice said.
The Gaels then forced turnovers on three of the first four possessions of the fourth quarter to spark the 8-0 run that essentially put the game away.
"Nick Blair, I thought was amazing," Rice said. "And Julian Payton came in and gave us a huge spark there at the end of the third quarter to pull a lead a little bit."
Payton and Blair combined for four steals in the fourth quarter as the Gaels forced nine turnovers in the final eight minutes.
"We told ourselves that we've got to take this one away and come out with a lot of energy and just get that extra push," Blair said of the fourth-quarter run. "That's what makes or breaks teams, so the fourth quarter was huge for us."
Blair's play was huge all night. Overshadowed all season by the Duke-bound Jeter and 7-0 center Stephen Zimmerman, Blair had 21 points, 10 rebounds and three steals for Gorman in the biggest game of the season.
"Nick's been incredible," Rice said of the senior's playoff run. "He's been playing the way that we know he can play. He showed he's a big-time player."
Gorman looked rattled in the second quarter, and Palo Verde pulled within 21-19 on two free throws by Taylor Miller with 3:30 left in the half. But Zimmerman put home a stick-back to start an 8-0 Gorman run to end the half.
The Gaels, who had a huge size advantage inside with Jeter, Zimmerman, the 6-5 Blair and 6-11 junior Zach Collins, had 28 second-chance points in the game.
"We're always focusing on that," Jeter said of the offensive rebounding. "Just to be out there and be assertive on both ends of the floor is just what separates us from other teams and other players."
Palo Verde's Ja Morgon got hot in the third quarter, scoring 10 of his team-high 17 points. He knocked down two 3-pointers to help the Panthers pull close again.
"It didn't surprise me," Rice said of the second-half Palo Verde run. "I knew what Palo Verde had in them. Ja, he was unstoppable there for a little while. They never caught us, but they made it close."
Zimmerman had seven points, eight rebounds, five assists and four blocked shots for Gorman. Payton, the son of former NBA star Gary Payton, came off the bench to add 10 points and four steals.
"He's a great ball-handler, and he's as smart as anybody," Rice said of Payton. "His dad was one of the best defensive players of all time, so J.P. has that in him. He's just a true point guard."
Dressler added 12 points and 10 rebounds for Palo Verde.
It was the fourth state title for Zimmerman and the third for Jeter and Blair.
"To come back to Gorman 10 years from now and see those banners on the wall and know that I was a part of that and a part of something special with a special group of guys just makes you appreciate everything that has happened in the four years," Jeter said.
Contact prep sports editor Damon Seiters at dseiters@reviewjournal.com or 702-380-4587. Follow him on Twitter: @DamonSeiters.
Box score:
Bishop Gorman 74, Palo Verde 54