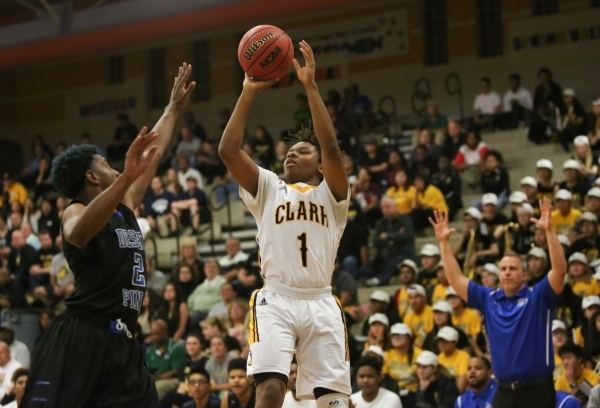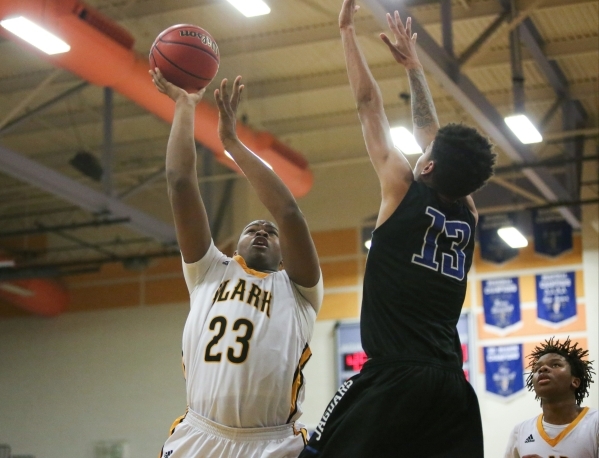 Desert Pines has taken its lumps against Clark the last two seasons, losing twice in region championship games and once in the state final.
Saturday, it was time for the Jaguars to get some revenge.
Capri Uzan scored 12 of his 20 points in the second half to help Desert Pines to a 47-42 win over the visiting Chargers for the Division I-A Southern Region title. Both teams advance to the I-A state tournament, which begins Friday in Reno.
"It's just a sign of maturity," said Uzan, who was part off a team lost to Clark in both the region and state finals last season. "They're a young team. We were in their shoes last year. They had a bunch of older guys. So now it's our turn. The big brother's kind of beating up on the little brother."
The Jaguars (21-8) led 17-13 at the half, but had been anything but effective against Clark's 2-3 zone. The Jaguars were just 1-for-6 from the field in the second quarter, but things changed after halftime as Uzan and Greg Floyd found the range from the perimeter.
"We just took our time," Uzan said. "They were sitting back and baiting us into shooting 3s. We figured it out after losing for the past three (games). We're just learning. At state, we're probably going to learn even more."
Uzan and Floyd each hit two third-quarter 3-pointers to help get Desert Pines get going.
"We knew that those guys have got to be able to shoot the ball," Desert Pines coach Mike Uzan said. "We were effective with it."
Floyd started the fourth quarter by hitting his third 3-pointer to push the lead to 33-24, and the Jaguars extended the advantage to 39-29 on a runner by Capri Uzan with 3:24 to play.
Clark (20-9) rallied to make things interesting. James Bridges hit a long 3-pointer from the right wing to cut the lead to 40-37 with 1:17 to go.
The Chargers pared the lead to three points again when Darius Jackson hit a 3-pointer from the right corner with 40 seconds left to make it 43-40.
"When you're playing from behind, you've got nothing to lose and everything to gain," Mike Uzan said. "Those guys are good, and they made some big-time shots and we were able to withstand that adversity."
Clark got within three again on Antwon Jackson's post bucket with 27 seconds to go, but Capri Uzan was able to do just enough from the line, making 2 of 4 foul shots in the final 20 seconds, for Desert Pines to hang on.
Floyd had 13 points and three blocked shots, and Trevon Abdullah grabbed seven rebounds for the Jaguars. Curtis Henderson scored just four points, but was 4-for-4 from the foul line in the final 1:12 to help preserve the lead.
"That was a good battle," Mike Uzan said. "It was good for us to overcome some adversity. We played really good teams all year long. We played top 25 teams, and it just made us tougher. And that was just another good team right there."
Darius Jackson had 15 points and nine rebounds to pace the Chargers.