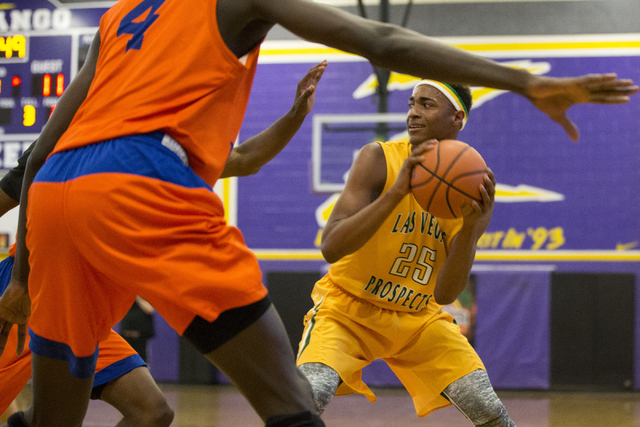 The name O'Bannon carries a lot of weight in the basketball world. Brothers Charles and Ed O'Bannon teamed to deliver UCLA the 1995 national championship, and they went on to play professionally.
Now Charles O'Bannon Jr. is trying to follow in their footsteps, but how closely is a big question.
O'Bannon Jr., who plays for Bishop Gorman High School and this week is competing for the Las Vegas Prospects in the local NY2LA AAU tournament, said he will consider the Bruins and his hometown UNLV, but is keeping an open mind.
He has narrowed his list to Arizona, Kansas, North Carolina State, Oregon, Texas and Washington in addition to UNLV and UCLA.
"I'm looking at (UNLV) pretty seriously," said O'Bannon Jr., whose Prospects opened play Wednesday at Durango High. "I had a few talks with Coach (Marvin) Menzies. He's a really cool guy. I know he knows what he's doing."
O'Bannon Jr. and his dad took an unofficial visit to UNLV two months ago.
"I love (Menzies') character," O'Bannon Sr. said. "I love everything he had to say. I know they're up and coming. I know he's going to get a lot of top kids into his program that he's going to build around. I think that it's a good school that Chuck definitely should consider."
Junior said with this being the final AAU tournament of his high school career, it will carry weight in his decision making.
"Coaches who are truly interested will be here," he said.
Don't expect a quick decision by the 6-foot 6-inch guard, who ESPN rated the nation's No. 23 prospect and No. 1 in Nevada. He hasn't scheduled official visits, and probably will go into the spring before choosing which school to attend.
Gorman coach Grant Rice said the school that lands O'Bannon Jr. will get someone who will make a strong immediate impact.
"He's one of the best pure scorers we've had here at Bishop Gorman," Rice said. "Length, athleticism, a big body that can do a lot of things. He's got a lot of upside ahead of him as he continues to grow and get stronger. When you've got a kid who's 6-6 with that wingspan and the athletic family that he has, he has a real bright future."
The O'Bannon name has helped get him attention, and for good reason. His dad and uncle not only helped lead the Bruins to the 1995 title — Ed was the Final Four's Most Outstanding Player after totaling 30 points and 17 rebounds against Arkansas in the final — each played briefly in the NBA and continued their pro careers overseas.
O'Bannon Sr. and his brother have lent their experience to help guide Junior through the recruiting process.
"Things have changed where coaches can get in contact with the kid a lot more easily, and it's not as time-demanding," O'Bannon Sr. said. "Now they're texting and Instagramming and that kind of stuff. Recruiting has changed a little bit in that sense."
When it comes to making the final decision, O'Bannon Sr. will help to a point.
"I love UCLA, of course, but you want him to have to make the decision that's best for him," O'Bannon Sr. said. "I would never push UCLA more than I would push another school just because I went there. I want him to make his own decision and be able to accept it when he gets older, when his career is over. I don't him to look back and think, 'My dad made me go there.' "
Contact Mark Anderson at manderson@reviewjournal.com or 702-387-2914. Follow him on Twitter: @markanderson65