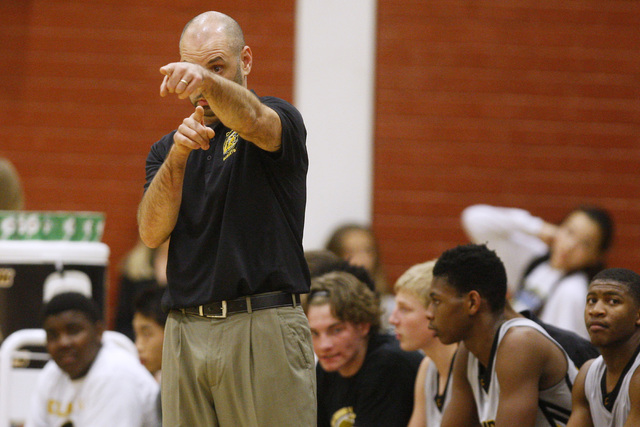 Chad Beeten had a long-term vision for building the Clark boys basketball program when he took over in 2010.
After a one-year pause, his plan is back in action.
Beeten, who led Clark to three straight Division I-A state titles before departing at the end of the 2016 season, said Tuesday he was hired as the school's boys basketball coach.
Beeten replaces Colin Darfour, who was fired in March after leading the Chargers to the Class 4A state final in his lone season at the helm.
"It's not often you get an opportunity and a second chance at a place you had success and also enjoyed being at," Beeten said. "I'm fortunate enough to have that."
Beeten spent this past season at Crossroads School in Santa Monica, California, going 18-10. He resigned prior to team's game in the state open division playoffs, according to the Los Angeles Times.
"My situation in California was, at the end of the season, despite the turnaround success that we had, I just felt it wasn't the right fit for me," Beeten said. "My family still hadn't made the move out there yet, and it was kind of time for me to decide if it was the right fit or not before they made the move."
Beeten was 132-44 in six seasons in his first stint at Clark. The Chargers lost to Desert Pines in the Division I-A state final in 2013 before winning three consecutive state championships.
The Chargers went 27-5 in Darfour's only season, which nearly ended with another state title. Clark had an eight-point lead over Bishop Gorman with 1:40 remaining before losing 62-58.
Beeten said he does not expect an awkward transition because he is familiar with many of the players in the program.
"I really couldn't say what happened in the previous situation because I wasn't part of it," Beeten said. "I don't know the circumstances that caused this, I just know that I'm fortunate enough to be able to come back to a place that I enjoyed being at."
Clark is expected to return several key players for next season, including UNLV recruiting target Trey Woodbury, and Beeten will face high expectations from the outset.
"All along, when I first took over seven years ago, it was kind of our whole plan to go in phases. First it was to be a local power, and then next it was more of a regional thing," Beeten said. "We had a pause for a year, but now that's certainly the plan is to create some national opportunities for us."
Contact David Schoen at dschoen@reviewjournal.com or 702-387-5203. Follow @DavidSchoenLVRJ on Twitter.