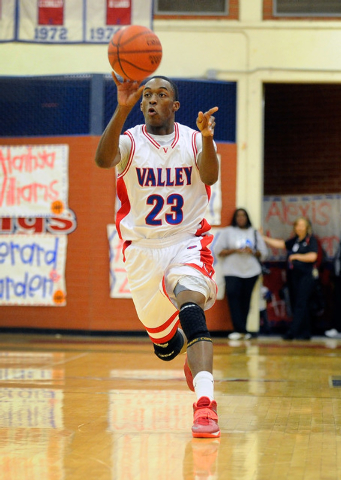 The Canyon Springs boys basketball team has at least three players capable of taking over a game on offense.
It was Shaquile Carr's turn Wednesday.
Carr had 18 of his 29 points in the second half, and the visiting Pioneers held on for a 75-70 victory over Valley in the regular-season finale.
"He played strong, and it makes a difference when you play strong," Canyon Springs coach Freddie Banks said. "He did what he's supposed to do as a senior. He showed he's capable of playing this type of basketball."
Carr had 12 points in the third quarter as the No. 4 Pioneers (21-4, 10-0 Northeast League) continually spread the floor and let the Texas-El Paso commit drive to the basket. Canyon Springs led by as many as 13 points in the third and took a 68-57 lead on Jordan Davis' putback with 4:15 remaining in the fourth quarter.
Sixth-ranked Valley (21-6, 7-3) chipped away at the deficit and closed to within 73-70 on a basket by Gerard Harden with 30.4 seconds left. But the Vikings went for the steal after the make rather than fouling, and Carr drove to the rim with 10 seconds to play to put Canyon Springs up by five points.
"You don't want to lose any league games, regardless of whether you've clinched the division," Banks said. "I wanted them to stay focused on what we need to do. It's one game and you're out from here on out, so we've got to play basketball now."
Davis had 23 points, including a 7-for-10 effort from the free-throw line in the fourth quarter, and eight rebounds. Canyon Springs finished 22-for-36 from the foul line, while the Vikings missed 10 of their 21 free throws.
Valley, which trailed 56-43 with 2:20 left in the third quarter, closed on a 10-0 run to get within single digits heading into the fourth quarter.
But it wasn't enough as Valley missed out on the chance to host its opening game in the Division I Sunrise Region tournament next week.
The Vikings, who lost the tiebreaker with Las Vegas, will be the No. 3 seed from the Northeast and travel to Coronado.
Cameron Burton led the Vikings with 20 points, and Shea Garland added 18 points and 10 rebounds. Spencer Mathis finished with 15 points, 13 rebounds, three steals and two blocked shots for Valley, but the Northern Colorado signee was limited to two field goals after the first quarter.
"We knew we were playing for home-court advantage," Valley coach Brian Farnsworth said. "I thought we did a lot of things well tonight. … If the ball bounces our way one more time, we might win that game."
Contact reporter David Schoen at dschoen@reviewjournal.com or 702-387-5203. Follow him on Twitter: @DavidSchoenLVRJ.
Box score: