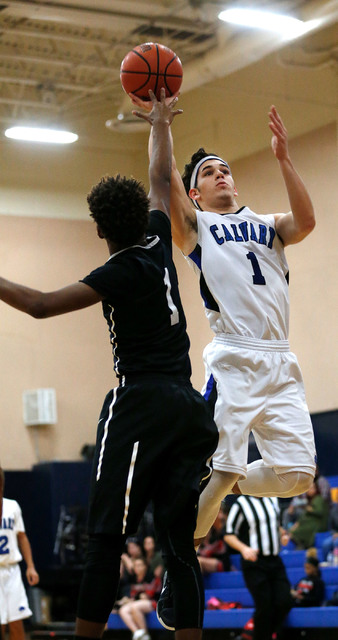 Calvary Chapel bookended its boys basketball game Tuesday night with solid defense, but it was the middle quarters that got it into trouble.
The Lions held Mountain View to five points and no field goals in the first quarter, but allowed a 13-point lead to vanish with 5:30 to play in the third quarter with sloppy defense. But they never trailed and allowed just five points in the final three minutes of a 65-56 home win.
"Mentally, we kind of broke down defensively," Calvary Chapel coach Reggie Nelson said. "The intensity dropped a little bit, and that gave them the momentum to come back on us."
Twin brothers Terrence and Tyrell Brooks combined for 45 points and led Mountain View's comeback. A deep 3-pointer by Tyrell for the Saints' first field goal of the game early in the second quarter began the momentum swing.
Calvary Chapel regained some breathing room after Mountain View tied it in the third quarter, leading by at least five for the final eight minutes.
"I was confident in our team," Nelson said. "We just have to tighten everything up and prepare for the next one."
A lot of the Saints' points came from the foul line in the first half, as the Lions committed 10 fouls and Mountain View went 10 of 18 from the line to get back into the game.
"When they started shooting all those free throws, we were picking them up too late down low, and we weren't making the rotation, so they were right at the basketball and we were committing those stupid fouls," Nelson said.
Junior Elijah Martinez led the Lions with 23 points, and sophomore Dylan Simms scored 16.
In the end, the 13-point hole Mountain View dug in the first quarter was too much to overcome. But the Saints gave Calvary Chapel plenty to look at.
"Like any game, we have to look at the film and see what we did wrong, but we know we have to tighten up our defense," Nelson said.
Box score:
Calvary Chapel 65, Mountain View 56