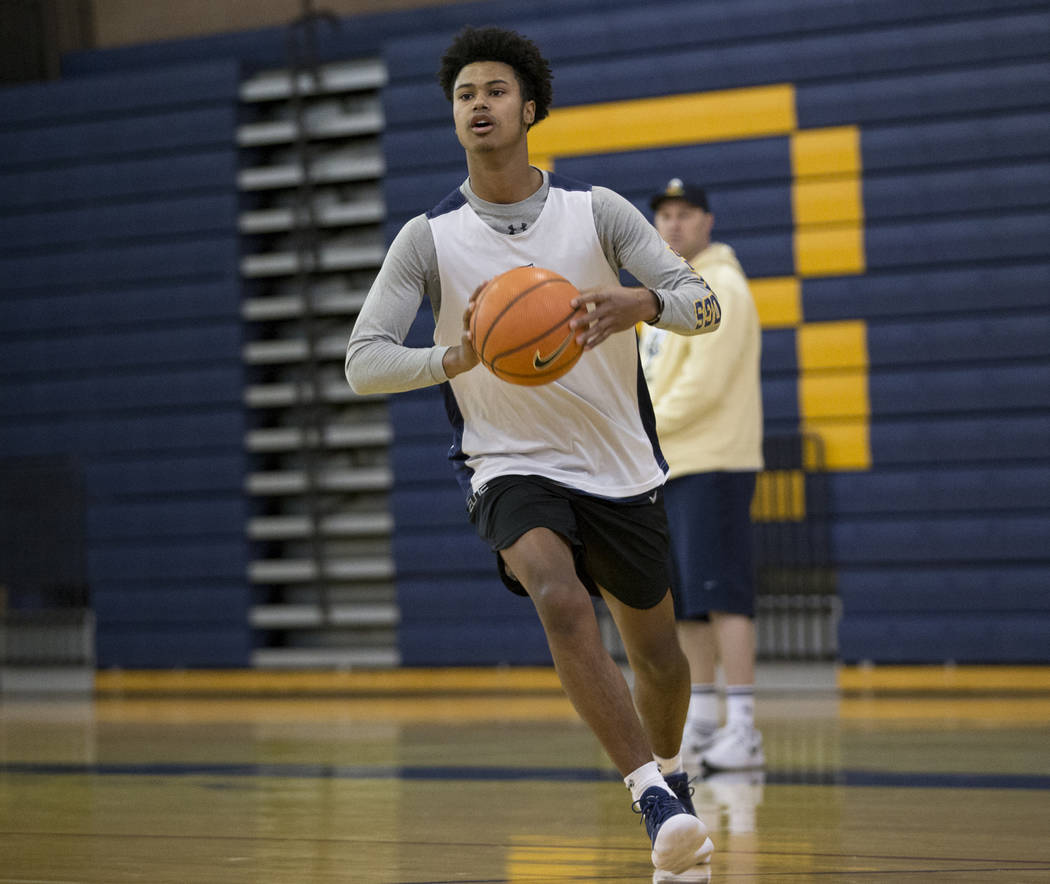 Boulder City High School is almost done with construction. A new theater is set open in the spring, and the trucks and workers will be gone.
But inside the gym is where the most impressive rebuild lies, and it's almost complete.
Last season, Boulder City's boys basketball team went 10-16, missed the playoffs, then returned seven lettermen and four starters.
The Eagles (10-5) have already matched last season's win total and seem primed for their first playoff berth in four years.
"Little bit older, little more experienced," coach John Balistere said. "I think the comfort level they have together, just knowing how to play together, just another year, the experience is huge."
The biggest improvement is the development of the team's core talent. The Eagles take advantage of Boulder City's natural isolation from the rest of the area by starting their players young. Many Boulder City players have been together since first grade, and the chemistry has started to blossom.
"When you come into a small school and you've been playing with these players your whole life, you know what they like and what they don't like to do," junior Karson Bailey said.
The school's enrollment is among the lowest of Class 3A schools, so the talent comes in waves. Balistere said the talent has been in a waning phase the past few years, forcing the team's younger players into big minutes. Now it's paying off.
Seniors Carson Balistere and Tanner Montgomery have been key cogs since their sophomore seasons, and Bailey was the leading scorer last season as a sophomore.
But it never hurts to get some outside help. The top scorer is Bullis (Maryland) transfer Derrick Thomas, a junior forward-guard scoring 12.1 points per game while also averaging 5.4 rebounds.
"I feel like with anybody, I can play with them and fit into the system," Thomas said. "I feel like them, being great teammates helping me adjust to the new scenery and everything, has been fantastic."
The Eagles are 2-1 in Sunrise League play and have the makings of a playoff team. But they're not satisfied with just making the postseason for the first time since 2014 — they want the team's first league title since 2012. And as John Balistere said, to win the league, they'll have to get past Chaparral.
The Cowboys won the league last season and have not missed the postseason since 2012. They beat Boulder City 56-53 on Dec. 6 at Chaparral.
But they will meet again Jan. 18 at Boulder City. The Eagles know a league title could be at stake.
"We played the best team in the league and barely lost to them at their place," Bailey said. "I think we can beat every team in our league."
Contact Justin Emerson at jemerson@reviewjournal.com or (702) 387-2944. Follow @J15Emerson on Twitter.
Boulder City boys records
2013-14: 10-14
2014-15: 10-15
2015-16: 6-20
2016-17: 10-16
2017-18: 10-5