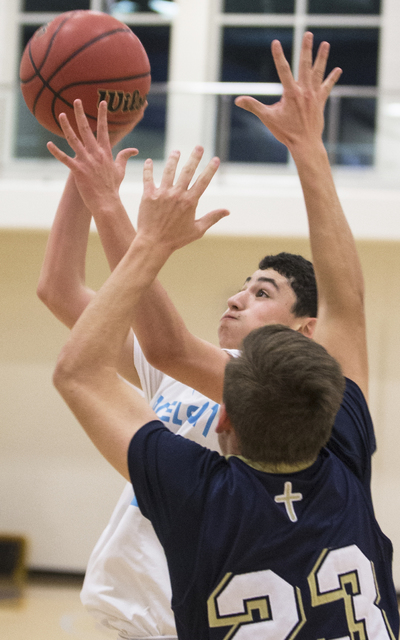 When Lake Mead made a layup with 2:55 to play Thursday, it was the first time the Eagles had scored two consecutive baskets. That just shows the kind of night the Adelson School's boys basketball team had.
Adelson School had four runs of at least 10 unanswered points, took a 49-20 halftime lead and rolled to a 74-41 home victory over Lake Mead.
"We've had too many slow starts lately, and at halftime we have to light a fire," Adelson coach Kurt McGinnis said. "It's nice to come out firing early and often and give that speech at halftime."
In their past three games, the Lions (12-3, 8-1 Class 2A Southern League) have had first-half point totals of 37, 31 and 23. They controlled the game from the opening tip, rattling off the first 11 points and forcing Lake Mead (6-10, 2-7) to call timeout after about 2½ minutes.
It wasn't just one player. Senior Jake Buchman led the Lions with 15 points, but junior Miles Hagan (14), senior Brandon Pappas (13) and senior Jalen Pitts (10) also posted double figures. Eight Lions scored, all hitting multiple field goals.
"That's how it is in practice, and that's how we have to make it in games," Buchman said. "Everyone is contributing and sharing the ball."
The Lions never let Lake Mead get into a rhythm. The Eagles' best run came in the second quarter, when they sandwiched two 3-pointers around an Adelson field goal. Unfortunately for the Eagles, that was preceded by 11 straight points by the Lions, followed by nine more unanswered.
"When we compete for 32 minutes defensively and share the ball offensively, we're tough to beat," McGinnis said. "We have seven or eight guys that can score in double digits every single game."
On this night, four players scored in double figures, but McGinnis' point was clear: When the Lions are on, as they were Thursday, they are a force in Class 2A.
"It's a good feeling," McGinnis said. "It's the best team game we've had all year."
GIRLS
Lake Mead 42, Adelson School 18 — At Adelson School, Aaliyah Perkins scored 15 points to lead the Eagles over the Lions.
Lauryn Freund scored 10 for the Eagles, who held the Lions scoreless in the first quarter and led 27-5 at halftime.
Claire Mason led Adelson School with six points.
Contact Justin Emerson at jemerson@reviewjournal.com or (702) 387-2944. Follow @J15Emerson on Twitter.
Box scores:
BOYS
Adelson School 74, Lake Mead 41
GIRLS
Lake Mead 42, Adelson School 18