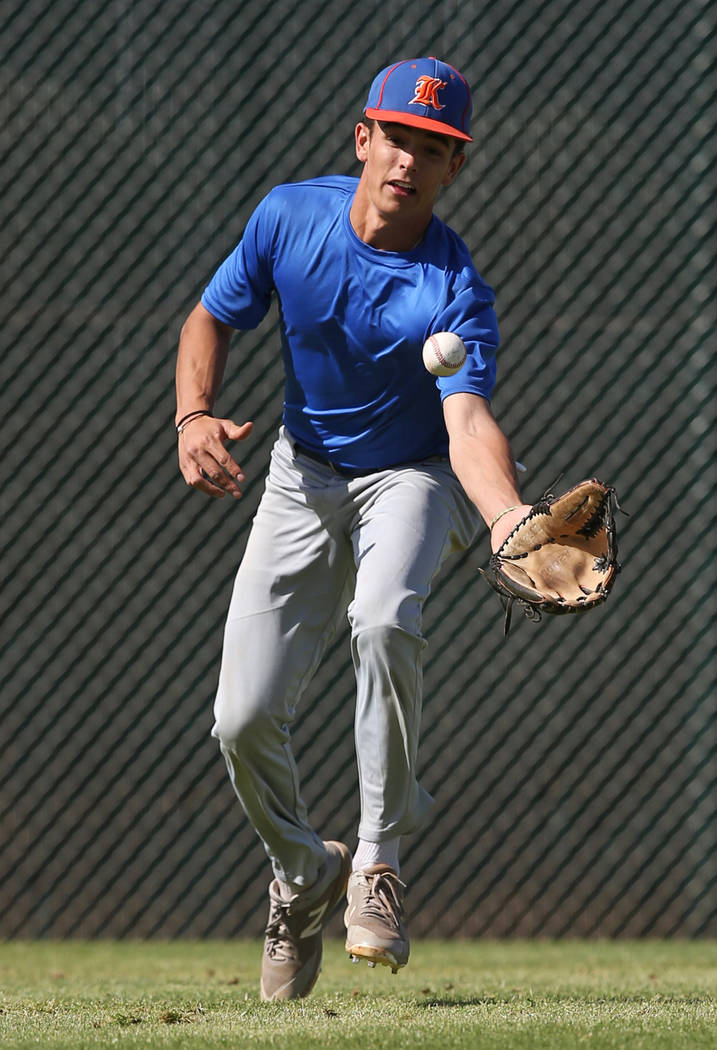 Bishop Gorman's leadoff hitter leads the team in runs, hits and stolen bases. The No. 3 hitter leads the team in average, walks and doubles.
And after the game is over, they both go home to the same place.
Carson Wells has been the sparkplug at the top of the lineup for Gorman's baseball team this season, and brother Austin Wells has been the hitter that pitchers hate to face. They've led the Gaels to a 17-4 record this season, and both are expected to play Division I baseball once their time at Gorman has ended.
"It's exceeded our wildest expectations for what the boys have been able to accomplish," said Greg Wells, the players' father.
Austin entered 2018 with big expectations. He is committed to the University of Arizona, and won the Gatorade Nevada Player of the Year last season after hitting .500 with eight homers and 47 RBIs. He was selected to the Under Armour All-America Baseball Game, and is considered one of the nation's best slugging catchers.
Carson meanwhile, couldn't be more different. A speedy center fielder, the sophomore is in his first year playing varsity ball. He has 10 stolen bases this year, which matches Austin's career-high in a season.
"I think it's good that we do have that separation, because we can't really be compared as baseball players on the field," Austin said. "He can focus on himself and not have to worry about, my brother's in right field, he's next to me. "Or he's a catcher and he's sitting behind me. It's good that we're both on the field at the same time, different players helping the team with the dynamic of how we play."
Still, playing with his brother hasn't added any pressure to Carson. He's a top prospect because of his game, not because of who is brother is. Yes, Arizona is one of his college finalists, but that's because .397/.486/.555 slash line will play anywhere.
"He's a big shadow, but I feel like I'm not in it at all," Carson said.
Home life is, as one could imagine, full of sports. Austin said his dad, a former baseball player at Arizona, likes to video their at-bats and break down film. Their mother Michelle was a gymnast at Arizona, and their younger brother Mason plays lacrosse at Gorman.
Sometimes its talking about why teams won't pitch to Austin (21 walks, 10 intentional by his count), or where Carson is going to college (he wouldn't divulge much, other than that he wanted to decide "soon").
But right now their parents can enjoy not having to choose which of their sons teams to root for. The pair has never played against each other, and if Carson were to attend Arizona, they may never have to.
"It makes it really easy on Mom and Dad, because they don't compete against each other in any way, shape or form," Greg said. "I think it's the absolute best of situations that it could ever be."
More preps: Follow all of our Nevada Preps coverage online at nevadapreps.com and @NevadaPreps on Twitter.
Contact Justin Emerson at jemerson@reviewjournal.com or (702) 387-2944. Follow @J15Emerson on Twitter.