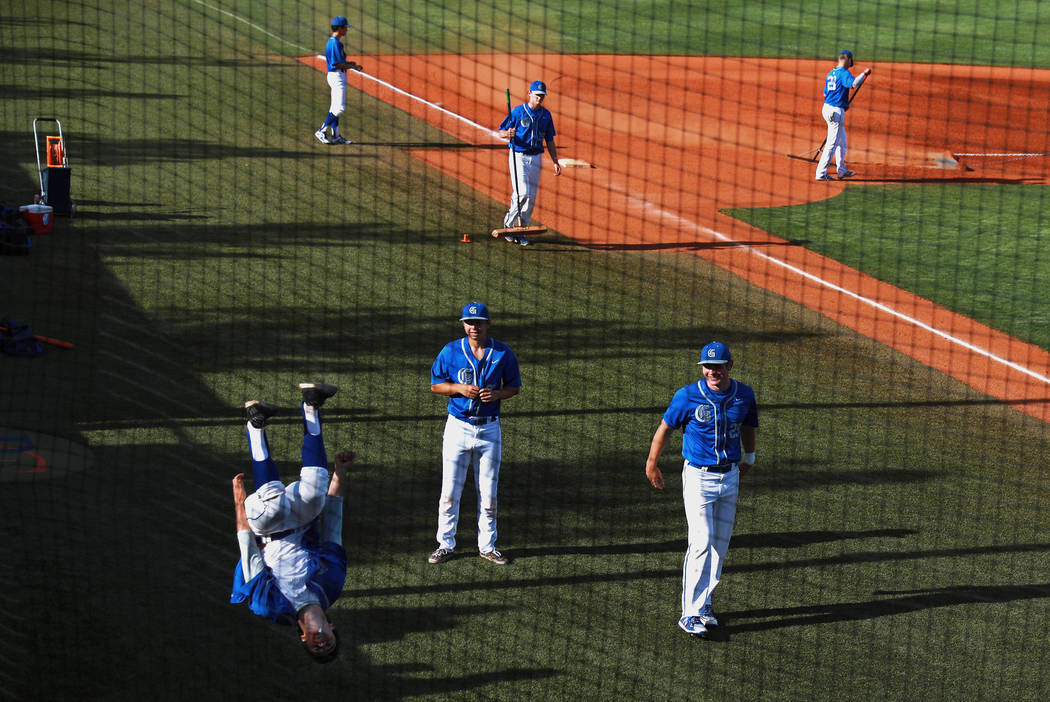 The best thing a pitcher can get is run support, and it's particularly helpful when it comes early. So Thursday, Bishop Gorman's baseball team made sure to get right-hander Parker Aquino a couple of runs before fans could bite into their hot dogs.
Aquino scattered three hits in six strong innings with eight strikeouts, and shortstop Tyler Curtis backed him with a first-inning home run and three RBIs in the Gaels' 6-2 win over visiting Clearfield (Utah).
"When they get more runs, it definitely boosts your confidence and lets you work easier," Aquino said. "You know when you get your team to back you up and get you support, it makes it easier to work."
Curtis started the Gorman half of the first with a bang, taking the first pitch and depositing it over the left-field wall for a 2-0 lead. He reached on an error and scored two innings later, then singled home a run in the fourth.
Curtis' first-pitch homer was a sign of things to come. Ten Gaels put the ball in play on the first pitch, and collectively they went 4-for-10 with a homer and two doubles when they did.
"He gave me a first-pitch fastball, and I turned on it and got the barrel out front," Curtis said. "We don't like to let good pitches go by, and if we get a first-pitch fastball that's right down the middle, we just like to go for it. We're going to be aggressive."
Giving Aquino an early lead was a recipe for success. He struck out the side in order in the sixth, and only once allowed back-to-back hitters to reach. He pounded the zone with a fastball from his three-quarter arm slot and mixed in an off-speed pitch as an out pitch.
"I mixed my pitches really well, which help me set up other pitches to punch out guys," Aquino said.
The Gaels (11-2) scored two in the first, three in third and one in the fourth. Aquino left the game in the sixth, and after two batters reached, Brandon White came in and struck out the last two hitters to record the save.
Contact Justin Emerson at jemerson@reviewjournal.com or (702) 387-2944. Follow @J15Emerson on Twitter.
Box score:
Bishop Gorman 6, Clearfield (Utah) 2