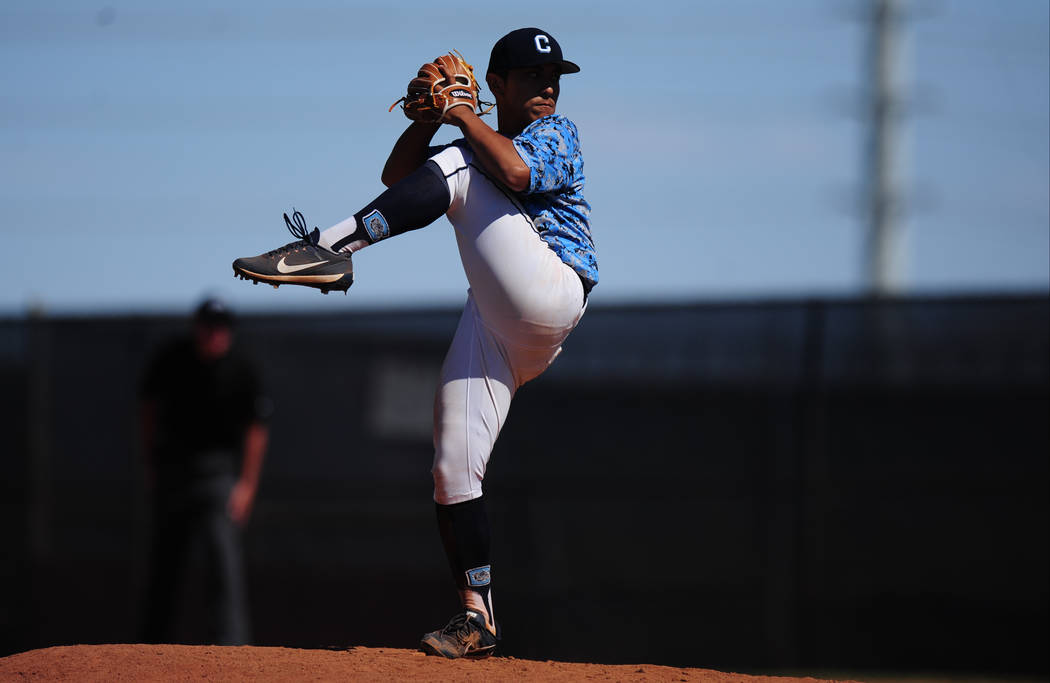 Palo Verde senior Jaret Godman is the type of pitcher that wants the ball in big situations.
He got it again, and again during the Sunset Region tournament.
Godman picked up a pair of victories on Saturday, as the Panthers defeated Centennial 15-0 and 1-0 at Shadow Ridge to claim the Sunset title and earn a berth at state.
For the region tournament, he had three wins and a save in four appearances. He didn't allow a run in 15 1/3 innings. Godman allowed seven hits and struck out 22.
"It's just the way he is," Palo Verde coach Joe Hallead said. "He battles, and you know with the ball in his hand that you're going to win the ballgame."
Godman started and threw four shutout innings in the opener, then came on in relief and pitched 3⅓ scoreless to get the victory, combining with Bryce Robison on a three-hitter in the decisive second game.
"Jaret's been our horse all year," Hallead said. "That kid right there pitches, hits, plays defense and he's been a captain for us all year. I knew with him with the ball at the end of the game that we were going to win this thing."
Palo Verde (28-9) blasted five homers in an easy win in the opener, but both teams struggled offensively in the second game. Godman and his twin brother, Jacob, got the Panthers going in the third inning. Jaret Godman singled up the middle, and Jacob Godman reached on a bunt single.
That set up Josiah Cromwick's RBI single for the game's only run.
Robison allowed two hits and struck out three in 3⅔ innings before giving way to Jaret Godman with a runner at first in the fourth.
"Bryce was limited because he threw six innings in the Wednesday game," Hallead said. "And he came out today and was so good. He had all of his pitches working and he got us through 3⅔ and he ran into his pitch count and we had to take him out."
Jaret Godman struck out the next batter, one of seven strikeouts he had in the second game. He was nearing his pitch limit in the seventh, and Centennial put the tying run on base with a leadoff walk.
But Jaret Godman struck out the next three batters to secure the victory, and his teammates piled on top of him on the mound as the team claimed its first region title.
"It was crazy," Jaret Godman said. "Being dogpiled, it kind of hurt at the bottom. But it was the worst and best feeling of my life."
Nate Martin pitched well for Centennial (27-9), scattering five hits and striking out two in six innings.
"You've got to give credit to Nate Martin over there," Hallead said. "He kept us off balance."
The Panthers got a lift from the bottom of their order in the first game. No. 8 hitter E.J. Arnold and No. 9 hitter Noah Williamson hit back-to-back homers in the fourth inning. Arnold finished 4-for-4 with the homer, two doubles, and three RBIs, and Williamson was 3-for-4 with two homers and three RBIs.
Tyler Kim and Peyton Cole added home runs for Palo Verde, which lost 10-4 to Centennial on Thursday.
"We lost to them Thursday, and we didn't have any doubt that we'd come back with some fight knowing this was our senior year and we weren't going to let us go down easy," Jaret Godman said.
"Being with these guys these past six hours has been surreal. And there's really nothing like it."
Box scores: