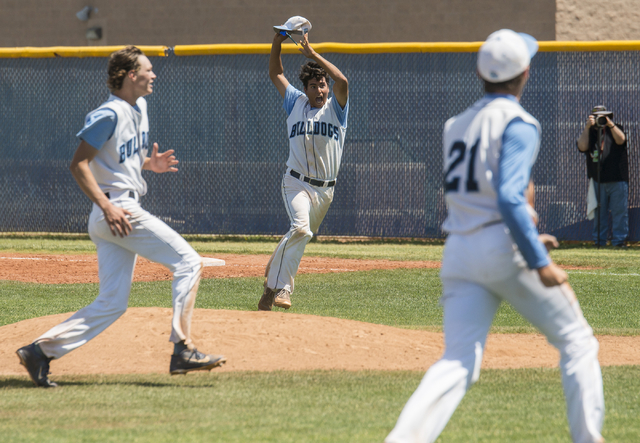 When Centennial's Tanner Wright blew out his left knee in late October, the idea of playing during the high school season seemed like a pipe dream.
That dream came true on Saturday.
Wright drove in four runs, and Centennial rallied for four runs in the bottom of the sixth inning to defeat visiting Bishop Gorman 8-4 for the Division I Sunset Region baseball title and a berth in the state tournament.
"It's so great," Wright said of returning for the postseason after tearing his anterior cruciate ligament, medial collateral ligament and meniscus playing fall ball. "I wouldn't miss it for the world, but to be a part of it on the field, playing, is a dream come true."
The Gaels (31-6) rallied for two runs in the top of the sixth to tie the game at 4-4. But Gorman's bullpen struggled, as three relievers combined to give up four runs. Kyle Horton, who had struck out in his previous two at-bats, singled through the right side with two outs to score courtesy runner Cole Moreno with the go-ahead run.
"He got up in several other big situations earlier in the game, and he just didn't try too much that time," Centennial coach Charlie Cerrone said. "He just poked the ball to right field and got us the lead. And we just tacked on a few more."
The rally started when No. 8 hitter Hayden Grant walked to lead off the inning. Moreno ran for Grant and went to second on a sacrifice by Bryce Rheault. Austin Kryszcuk reached on an error to put runners on the corners. Chris Fredericksen relieved Vinny DeCesare and struck out Hayden Rosenkrantz for the second out, but Horton's base hit gave the Bulldogs the lead again.
"It's the greatest feeling of my life right now, especially getting that winning run in," Horton said. "Everything's all cool. I'm happy and excited for the team."
Fredericksen walked the next two batters, forcing home another run, and Wright chopped a two-run single up the middle for the final margin.
Wright, who didn't have an at-bat until the region tournament, was 3-for-4.
"My team is so accepting," Wright said. "They've welcomed me back greatly. I appreciate it. To fit right back in, it's so awesome."
Centennial (27-9) scored three runs in the bottom of the fourth to take a 3-2 lead. Wright had an RBI single, and two runs came home on Gorman errors. The Bulldogs added a run in the fifth on another RBI single by Wright.
"Tanner's well respected by the other kids," Cerrone said. "And he brings a big positive energy to the game. And he's a good player."
Gorman tied the game on a two-run double by Nicholas Israel in the top of the sixth. Israel was 2-for-3 with two doubles and three RBIs.
"We've had so many great kids come through in 17 years here, but this is really a special group," Cerrone said. "They really care about each other and play hard for each other. We again bent but didn't break. And they're a real tough, gritty, scrappy crew."
Contact prep sports editor Damon Seiters at 702-380-4587 or dseiters@reviewjournal.com. Follow him on Twitter: @DamonSeiters
Box score: