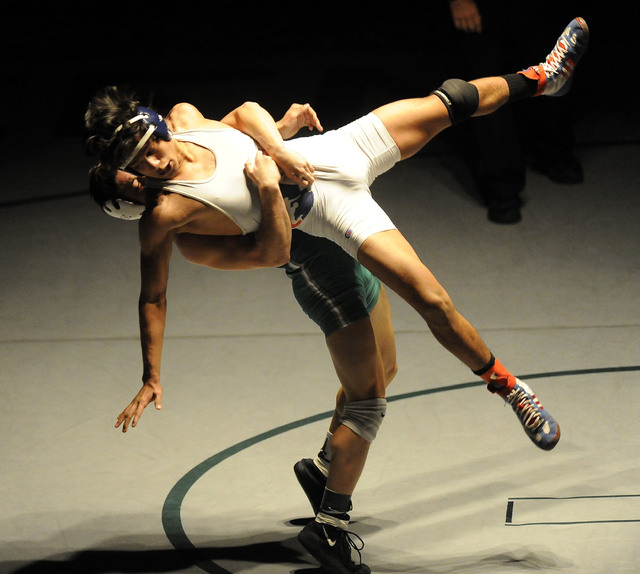 The Green Valley wrestling team's recent run of success was built on its strength in the lighter weight classes.
It was the Gators' performance in the middle and upper weights that proved to be the difference this season.
Host Green Valley finished with seven individual champions Saturday and ran away with its fifth consecutive team title at the Division I Sunrise Region wrestling tournament.
The Gators scored 265 points to easily outdistance second-place Foothill (181½ points). Liberty finished third with 134½ points, while Las Vegas (110½) and Coronado (101½) rounded out the top five.
The top three finishers in each weight class advance to the Division I state tournament Feb. 13 and 14 at the Winnemucca Event Center.
"Obviously this is our fifth year winning this, and we've never had seven champions," Green Valley coach Jon Ferry said. "It was a total team effort. Everybody knew what their expectations were, and they went above and beyond. It was very neat to see it come together there at the end."
Sean Cannon of Green Valley defeated Liberty's Michael Martinez by technical fall 16-1 at 132 pounds to capture his third region title. The Gators then swept six straight matches from 145 pounds (Adrian Ojeda) to 195 pounds (Cade Van Orden) to extend their lead in the team standings.
"Those finals were unbelievable," Ferry said. "A handful of those matches, we had lost head-to-head to some of those guys multiple times, and we beat them when it counted. I give all those guys credit for not getting down on themselves. You lose to the same guy two or three different times, it starts to get in your head a little bit. Our guys rose to the occasion."
The biggest surprise in that span came at 152 pounds as sophomore Giullian Nakamatsu upset senior Storm Roper of Liberty 7-5 in overtime. Roper, the 2014 Division I state champion at 145 pounds, led 4-1 before Nakamatsu scored a takedown with 20 seconds remaining in the third period and another as time expired to tie the match at 5-5.
Nakamatsu got the winning takedown with 19 seconds left in overtime as Roper looked up in disbelief.
"I asked Giullian to give me a takedown, and he gave me two," Ferry said. "He listened, he continued to wrestle. He gave himself the opportunity to win against an elite wrestler."
Cannon, a two-time state champion who did not participate last year's region tournament, dominated one of the premier finals matchups to earn his 200th career victory. He scored an early takedown against Martinez, the 2014 region champion at 126 pounds, and a three-point near fall late in the second period gave Cannon an 11-1 lead before he finished off the match at the 5:18 mark of the third.
"I give Sean a ton of credit," Ferry said. "He has stepped up and he has emerged and brought together our team. He's taken on that role, and I'm very proud of the things he's been able to accomplish, in all aspects."
Van Orden pinned Coronado's Brice Robinson 1:06 into the third period, one of only two victories by fall in the finals. Liberty's Jaylon Bates also won by fall over Nicholas Sablan in 3:01 at 126 pounds to earn his second straight region title.
Green Valley's Jiar Meagher rallied from a 3-0 hole in the second period to beat Alli Stewart of Las Vegas 8-4 at 160 pounds, before Robert Razo of Green Valley scored a reversal with 30 seconds left in the third period and held on for a 4-3 win at 170 pounds over Foothill's Bobby Merritt.
Jared Temple also was victorious for Green Valley at 182 pounds, using an early escape in the third period to pull out a 3-2 victory over Angel Camacho of Foothill.
Foothill had two champions as Damian Ortega scored a reversal early in the third period and pulled away for an 8-2 victory over Randle Crowley of Coronado at 138 pounds. Josh Ozuna claimed his second straight region title when he won by injury default over Eldorado's Quinn Edwards at 220 pounds.
Liberty shined at the lighter weights as Kyle Penalosa (113) and James Watkins (120) earned titles along with Bates. Penalosa needed only 2:13 to score a 15-0 technical-fall win over Valley's Isaias Urbina. Watkins got a three-point near fall late in the first period and coasted to an 11-2 victory over Green Valley's Jesse Gabriel, last year's 113-pound region champion.
Las Vegas freshman Antonio Saldate rode Foothill's Wyatt English for the entire third period to preserve a 6-5 win at 106 pounds. Robert Kaempfer of Las Vegas had a three-point near fall late in the first period and went on to defeat Foothill's R.J. Banos 8-3 at 285 pounds.