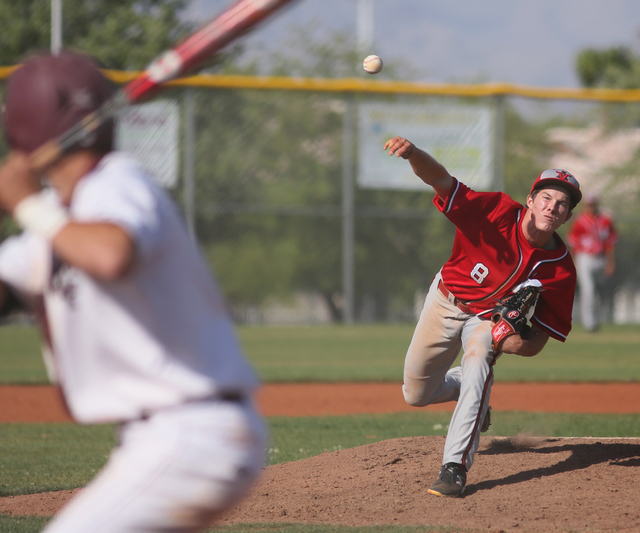 Even with two of the area's best on the mound, the wind howling out to dead center seemed to suggest Tuesday's baseball game between Arbor View and Cimarron-Memorial wasn't going to be a pitchers' duel.
It just took a spark to get the offense going.
Nick Quintana provided that with a two-run homer that started a six-run third inning for fifth-ranked Arbor View en route to a 10-2 road win over the second-ranked Spartans.
"I think the home run got us going a little bit," Arbor View coach Jay Guest said. "We scored six that inning."
Cimarron's Larry Quaney and Arbor View's Sam Pastrone had pitched out of early jams. The Aggies (19-4, 4-0 Northwest League) left the bases loaded in the first and stranded a runner at third in the second inning before breaking through in the third.
Jayce Gardner led off with a bloop single that fell just inside the right-field line. Quintana followed with a blast over the scoreboard in left-center field for a 2-0 lead.
Joe Fitzhugh added an RBI single, and Pastrone drove a bases-loaded triple over the head of center fielder Adam Mitchell for a 6-0 advantage.
Pastrone, who has signed with UNLV, showed good velocity early, touching 93 mph, but his control wasn't sharp. Cimarron left two runners in scoring position in the first, and left another on base in the second.
But Pastrone couldn't keep the Spartans off the board in the third, as he walked the first three batters, with one coming home on a throwing error. After a double play, Todd Danzeisen tripled over the head of center fielder Ben Cutting to make the score 6-2. But Pastrone struck out Trent Bixby to end the inning, and the Spartans wouldn't score again.
Pastrone allowed two hits in four innings to get the win. He struck out eight and walked six.
"His last two innings were probably his best two innings when he had to bow his neck and get it done," Guest said.
Ryan Brown threw two scoreless innings of relief, and Brady Borden pitched a scoreless seventh for Arbor View.
Pastrone was 2-for-3, and Cutting went 3-for-4 with two runs. But the biggest offensive day belonged to No. 7 hitter Fitzhugh, who was 3-for-4 with three runs and four RBIs.
Fitzhugh hit a home run in the seventh on a ball that appeared to be headed to the gap in right center but was barely fair in right field because of the strong wind, which had shifted and was then blowing from left to right.
Danzeisen was 2-for-3 for the Spartans (19-3, 3-1).
"Cimarron's a great team, and they've been playing great all year long," Guest said. "We just had a big inning, and Sam threw a great game and we got the bullpen in to finish it off. It was a good win for us."
Contact prep sports editor Damon Seiters at dseiters@reviewjournal.com or 702-380-4587. Follow him on Twitter: @DamonSeiters.
Box score:
Arbor View 10, Cimarron-Memorial 2