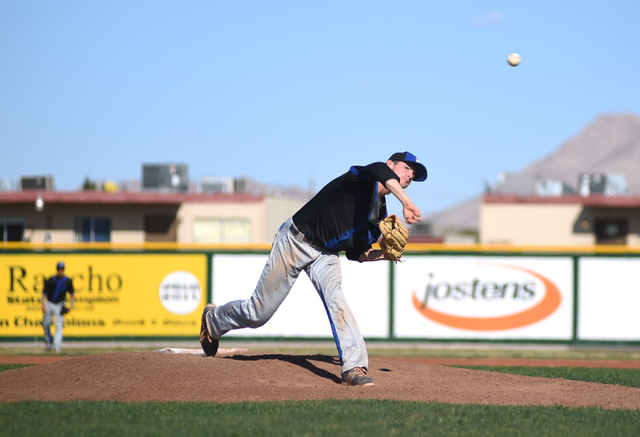 The bullpen for Rancho's baseball team started stirring around the third inning Friday and was ready at the first sign of trouble.
Layton Walls made sure the Rams' relievers weren't needed.
Walls twirled a four-hit shutout and outdueled Basic standout Ryne Nelson to lift host Rancho to a 2-0 victory.
"We had come into this game figuring that we were going to give the ball to Layton, and if he got into trouble we had another guy ready and our pitching was ready to go," Rams coach Tom Pletsch. "But Layton put us on his shoulders and carried us to the finish line today."
Zach Barnhart went 1-for-2 with a double, and Chayse Baker and Angel Walker drove in runs for the Rams (10-6, 3-2 Sunrise League).
It was the first loss to an in-state team for Basic (16-2, 5-1), which is No. 1 in the latest Southern Nevada Baseball Coaches Poll.
Walls allowed only three runners through the first five innings and escaped jams in the sixth and seventh. With runners on first and second and a lefty ready in the bullpen, Pletsch kept Walls in the game to face left-hander Jack Wold, and he got Basic's No. 3 hitter to ground out to end the sixth.
In the seventh, Garrett Giles reached on an error and Roger Riley singled to put two runners on with one out for Basic. After a conference at the mound, Walls stayed in and induced a fly out to center from J.J. Smith and a game-ending groundout by Gehrig Timmons.
Walls walked two and struck out one.
"He got ahead in the count," Pletsch said. "When you go in, obviously you want to be ahead in the count. And very few times did he fall behind, and it showed. Most of the balls they hit, they hit his pitch because he had two two strikes on them. They didn't really drive any balls."
Nelson, an Oregon signee, allowed only two hits and struck out seven but was hurt by four walks. In the second, Anthony Becerra walked, stole second and continued to third when the pitch skipped to the backstop. He then scored one batter later on a sacrifice fly by Baker.
Rancho loaded the bases in the sixth against Nelson thanks to two walks and a single by Joey Walls before reliever Trent Bixby walked Angel Walker on four pitches to make the score 2-0.
"We're young, and the one thing that we're lacking in right now is putting the ball in play with authority consistently," Pletsch said. "That is the kind of team we are. We're going to scratch and claw and try to come out with one more run than they have."
Contact reporter David Schoen at dschoen@reviewjournal.com or 702-387-5203. Follow him on Twitter: @DavidSchoenLVRJ
Box score: