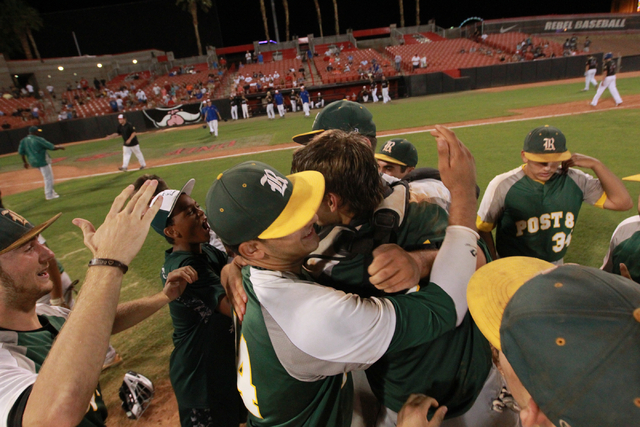 Tom Pletsch recalls the glory days of Rancho baseball, when players such as Marty Barrett, Mike Maddux, Perry Swanson and Mike Morgan helped the Rams win multiple state titles in the 1970s.
Back then, Rancho was a local powerhouse, winning state titles in 1973, '74 and '76 and essentially serving as the local breeding grounds for professional baseball.
Pletsch, who was a freshman on the junior varsity team during the last title, always looked up to those guys. And since taking over as Rancho's head coach in 2006, he dreamed of leading his once-proud alma mater back to prominence.
That wait is over as his Post 8 Rams will represent Nevada in the American Legion Western Regional Tournament in Surprise, Ariz.
Rancho (28-18) faces Pomona (Colo.) at 9 a.m. today at the Surprise Sports Complex to open the double-elimination event. The finals are Monday.
"It's extremely gratifying," Pletsch said. "Back when I took the job, I had a four-step process: Go to school and get good grades; learn how to compete; win games with middle-of-the-road teams and push the good teams; and merge the old tradition with the new tradition.
"This is the first time in 38 years that Rancho has won a state title. The kids have been working hard for years, and it's finally paid off. We've gotten over the hump."
In Pletsch's first season, Rancho was 5-19. But every year since, the program has made significant strides and has turned into one of the top teams in town.
Last Saturday's win over powerhouse Bishop Gorman cemented that. The Post 8 Rams overcame a three-run deficit in the ninth inning to beat the Gaels and win the state title.
This summer, they have been led offensively by Jose Verdugo, Zach Barnhart and David Modler.
Verdugo, a 2014 Louisville Slugger High School All-American and a first-team all-state selection, leads the team with a .435 batting average, six home runs and 37 RBIs.
Andrew Weiger and Josh Mill sit atop the pitching staff after winning five and six games, respectively. Mill struck out 13 batters in eight innings in the Rams' 7-3 win over Basic in the state semifinals.
"We've got super good pitchers on the mound," Pletsch said. "Josh Mill and Andrew Weiger can compete with anybody. Those are the guys we want with the ball in the big games."
The winner of the Western Regional will advance to the American Legion World Series on Aug. 16-20 in Shelby, N.C., alongside seven other region champions.
Bishop Gorman won the 2008 World Series in Shelby.
"The kids are excited for it," Pletsch said. "They understand the importance of being in the region tournament. It's a once-in-a-lifetime experience."
Contact reporter Ashton Ferguson at aferguson@reviewjournal.com or 702-383-0430. Follow him on Twitter: @af_ferguson.