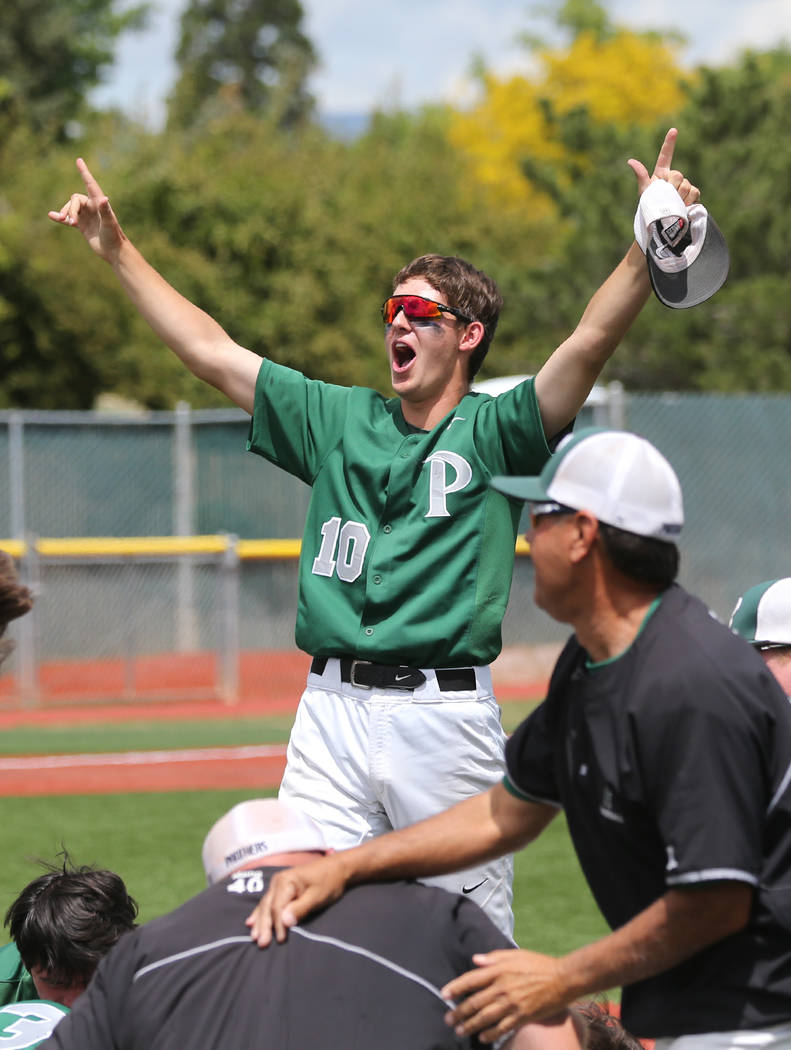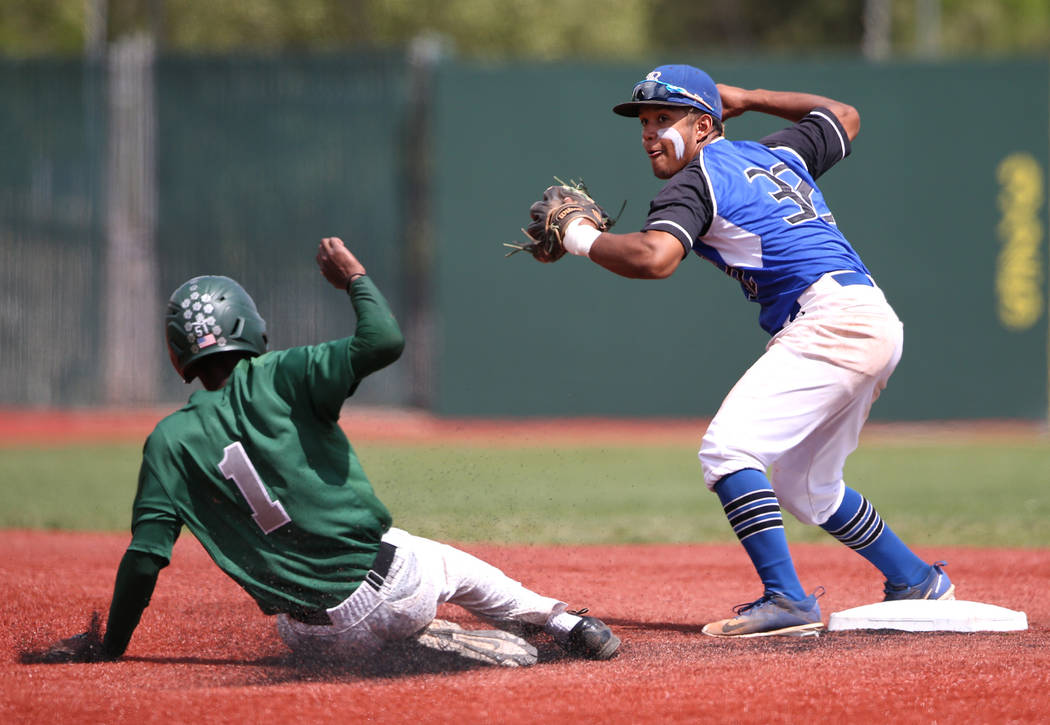 RENO — When Christian Rivero hit a grounder up the middle that deflected off the leg of pitcher Jaret Godman, the senior thought he had given up a hit.
Godman shouldn't have been surprised that junior second baseman Nate Bartlett was there to field the ball and turn a game-ending double play as Palo Verde defeated Basic 4-2 on Saturday at Bishop Manogue High to win the Class 4A state baseball title.
"It was just poetic, because the ball went to Nate when the game was on the line at the end for the state championship," Palo Verde coach Joe Hallead said. "And he got the ball, touched and threw and got that double play and it was over and we were dog piling."
It was poetic because Bartlett had a huge state tournament, scoring the only run in a 1-0 win over Bishop Manogue, hitting his first home run of the season in a 5-2 victory over Reno and driving in two runs against Basic.
He did it while playing stellar defense at second, especially on the final play, when he reacted to the deflection, ranged behind second to field the ball, stepped on the bag and fired to first to complete the double play.
"I was just trying to stay calm," Bartlett said. "I've made that play a million times. I've done it all my life. I just knew it was nothing different."
It was Palo Verde's first state baseball championship and snapped Basic's streak of two consecutive titles.
"I've been waiting for this all my life," Bartlett said. "It just really feels great to come out with a victory and do it for my brothers.It's super special. I know for all my teammates, this is the biggest moment of their life."
Bartlett's RBI single in the third gave the Panthers the lead, but Basic scored twice in the top of the fifth on a two-run single by Dalton Miller to take a 2-1 advantage.
Tyler Kim led off the bottom of the inning with his second single, and Bartlett drove in the tying run with a single to right field.
Basic catcher Trace Evans then tried to pick E.J. Arnold off third base. The ball deflected off the runner, and Arnold came home with the go-ahead run. Palo Verde added a run in the inning on a sacrifice fly by Godman.
"All week he's been lighting the ball up," Godman said of Bartlett. "He's a great leadoff hitter. He's going to go on to some great places. He's an unreal player."
Bartlett also made a great leaping catch of a line drive by Rivero in the fourth, and he gunned down a runner at the plate in the fifth. Those plays helped Godman secure the complete-game victory. He had a win and two saves in the state tournament.
In Palo Verde's eight postseason victories, Godman had four wins and three saves.
"When the time got tough, we went to Jaret," Hallead said. "Jaret's a senior captain, and he's the player of the year, in my opinion, in the state."
More preps: Follow Nevada Preps coverage at nevadapreps.com and @NevadaPreps on Twitter.
Contact prep sports editor Damon Seiters at dseiters@reviewjournal.com or 702-380-4587. Follow @DamonSeiters on Twitter.
Box score: