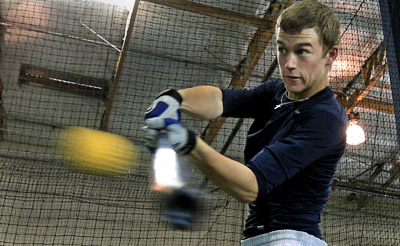 The major league draft can sometimes be a barometer of talent when it comes to college baseball recruiting.
For UNLV, that barometer had an encouraging reading for the second consecutive year.
Two Rebels signees from local high schools, Green Valley second baseman Evan Van Hoosier and Centennial right-hander Bryan Bonnell, were picked on the draft's final day Wednesday.
It's the second straight year four players committed to UNLV were drafted.
"We're getting the guys we're looking for," said Tim Chambers, who guided a young Rebels team to a 26-31 record in his second year as head coach in 2012.
Van Hoosier went to the Philadelphia Phillies in the 26th round, and the Chicago Cubs picked Bonnell in the 31st. Both players were first-team all-state honorees as seniors.
UNLV junior outfielder Brandon Bayardi went to the Minnesota Twins in the 36th round.
Also Wednesday, Bishop Gorman outfielder and Arizona State signee Johnny Sewald was chosen by the Baltimore Orioles in the 34th round.
On Tuesday, UNLV-committed third baseman Ron Miller of Serra (Calif.) went to the Miami Marlins in the 10th round, and UNLV-signed shortstop Michael Meyers of Silverado went to the Boston Red Sox in the 12th.
Players have until July 13 to decide whether to sign a professional deal or head to college, but Chambers likes his chances to keep the class intact.
In fact, Chambers said undrafted Collin Yelich, a 6-foot-3-inch catcher from Westlake (Calif.), might be the Rebels' top recruit.
"This next class looks like it's going to show up," Chambers said. "I love our class that we have."
Bonnell said he hasn't decided whether to sign a pro deal or head to UNLV. The 6-5 right-hander went 7-1 with a 1.92 ERA and 68 strikeouts in 62 innings, while batting .548 with four home runs and 35 RBIs.
Bonnell said the Cubs plan to monitor his progress this summer while he plays for the Utah Marshalls.
"I'll probably be making my decision close to or on July 13," Bonnell said.
Though he hasn't made a decision on his future, Bonnell said there would be many positives to playing at UNLV.
"Going there, getting my degree and playing (Division I) baseball have always been goals," he said. "My education is first, to have that as a backup. Playing with a lot of guys from in town I've known all my life, it'd be fun to be a part of."
Bayardi overcame various injuries as a junior to lead the Rebels in batting average (.361), homers (7) and RBIs (53).
"I'm not sure yet what I'm going to do. I'm still going to talk to the Twins," said Bayardi, who added he would like to finish his degree in kinesiology.
Chambers was surprised that UNLV senior outfielder Trevor Kirk went undrafted, but added the former College of Southern Nevada and Silverado standout could sign a free-agent deal.