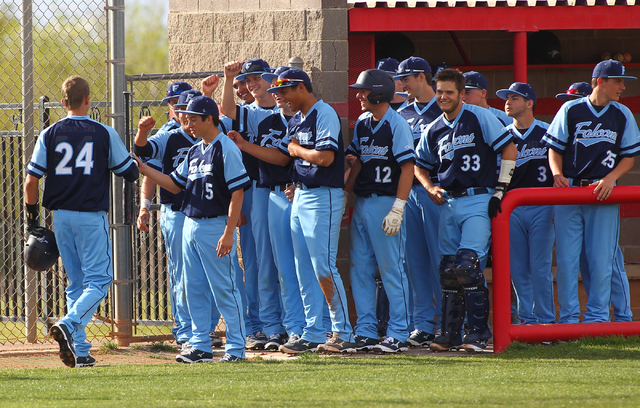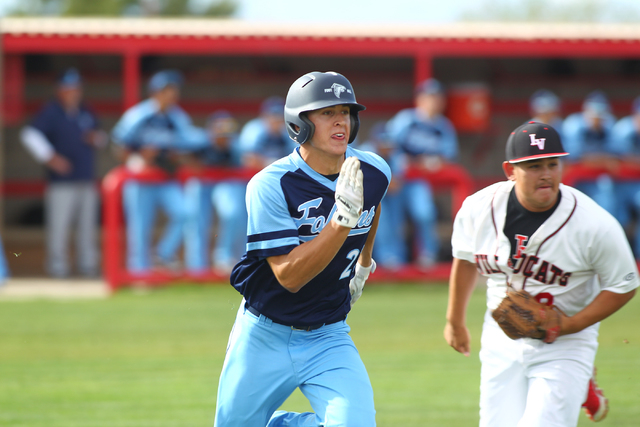 Thursday was the opening day of the high school baseball season, but Foothill senior right-hander Nick Cardinale looked to be in midseason form. Except for endurance.
Cardinale fired four perfect innings, and the Falcons claimed a 3-0 road win over Las Vegas High.
"He was sharp for a first outing, and I think he's only going to get better and better with every single performance," Foothill coach Matt Iglitz said. "I think he's as good as anybody in town, if not the best. It's nice to have a guy that you can run out there that you know is going to give you solid innings and command the strike zone."
Cardinale struck out six, including five in a row at one point. He suffered from tendinitis in the offseason, and his preparation this spring has been limited, so Iglitz had him on a 65-pitch limit. Cardinale threw 59 pitches, 41 for strikes.
"He's only thrown off a mound four times (this spring)," Iglitz said. "From the standpoint of early on in the year for Nick, we are very happy. He stayed below his pitch count, so that was good. It was a perfect setting for him to get his feet wet and be prepared to pitch for the year."
Senior Tyler Van Stone threw three scoreless innings with five strikeouts to get the save.
"That's what we're hoping to get out of our pitchers," Iglitz said. "We threw two of our horses today."
Las Vegas threatened Van Stone immediately. The first batter he faced, Eddie Ojeda, reached on an error when his grounder went between Cardinale's legs at second base.
Tynoa Shigemoto followed with Las Vegas' first hit, a line drive to right field.
But Antonio Gaxiola struck out when he fouled off a two-strike bunt, and Van Stone fanned Parker Lowe for the second out. Foothill catcher Zack Avery picked Shigemoto off first on the strikeout to end the inning.
Seniors Bligh Madris and Collin Dobrolecki provided most of the offense for the Falcons. Madris was 2-for-3 with a double, triple and run. Dobrolecki was 2-for-3 with a homer and two RBIs.
Foothill got an unearned run in the second, and Dobrolecki's solo homer to left in the fourth put the Falcons up 2-0.
Madris led off the sixth with a triple to right and scored on Dobrolecki's one-out single up the middle.
"Dobro's been battling a lot of injuries for the last several weeks," Iglitz said. "And the only role or capacity we had him at today was DH, and he steps up and hits a leadoff home run. We're about senior leadership right now. Our seniors are going to have to step up for us to be successful."
Contact prep sports editor Damon Seiters at dseiters@reviewjournal.com or 702-380-4587. Follow him on Twitter: @DamonSeiters.
Box score: