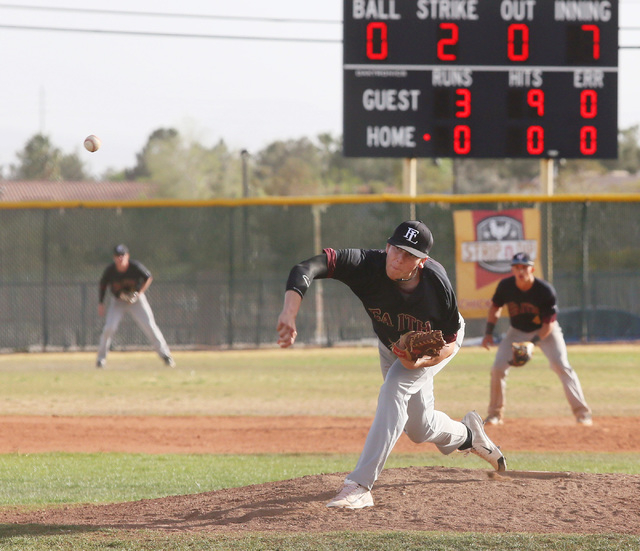 Brandon Johnson walked into left field by himself and posed for a quick selfie, making sure all the zeros on the scoreboard were in the picture.
"Just something so I can remember this," the Faith Lutheran senior pitcher said.
Johnson fired a no-hitter Wednesday, striking out 11, as the visiting Crusaders notched a 3-0 victory over Bonanza.
The 6-foot-4-inch, 230-pound right-hander threw 84 pitches (60 strikes) and faced one batter more than the minimum. He walked Alec Taft with two outs in the first inning and then retired the final 19 batters.
"Around the fifth or sixth inning I looked at the scoreboard and saw there was no hits," Johnson said. "I was nervous, but I kept my heart and mind strong and kept pushing through."
Johnson, a Kansas signee, struggled with his control in his most recent start, walking five and giving up four runs in a no-decision against Cimarron-Memorial on March 18. He was on from the start against the Bengals (6-6), striking out the side in the first and fanning six of the first eight batters.
Johnson threw a first-pitch strike to 17 of 22 hitters and allowed only three balls out of the infield.
The closest Bonanza came to a hit was in the third inning when Cruz Nevarez hit a nubber to third and Zach Trageton made an off-balance throw to retire the Bengals' leadoff hitter on a bang-bang play at first.
"In the bullpen before the game, he looked on," Faith Lutheran pitching coach Garrett Kohler said. "His fastball was jumping out of his hand, and his curveball was biting. I just let him roll."
Kohler said Johnson was consistently 87 to 90 mph on his radar gun despite the windy conditions. After tossing 19 pitches in the first, Johnson needed only 23 pitches to get through the next three innings.
In the seventh, Johnson froze Taft on a 1-2 curveball for the second out and got Hunter Junge to ground out to Trageton at third to end the game.
It was the second career no-hitter for Johnson, who blanked Western for five innings on April 22, 2013.
"I prepared very hard for this game coming off the hard Cimarron loss," Johnson said. "We came out focused, and I want to give credit to my teammates and catcher, Greg Sylvester."
Sylvester went 3-for-3 with a double and an RBI for the Crusaders (6-3), and Erich Uelman finished 2-for-4 with a double and an RBI single in the first inning. Trageton and Blake Giuliani also had two hits apiece.
Frankie Valle pitched the distance for Bonanza, allowing two earned runs and scattering 10 hits while striking out three.
Contact reporter David Schoen at dschoen@reviewjournal.com or 702-387-5203. Follow him on Twitter: @DavidSchoenLVRJ.
Box score: