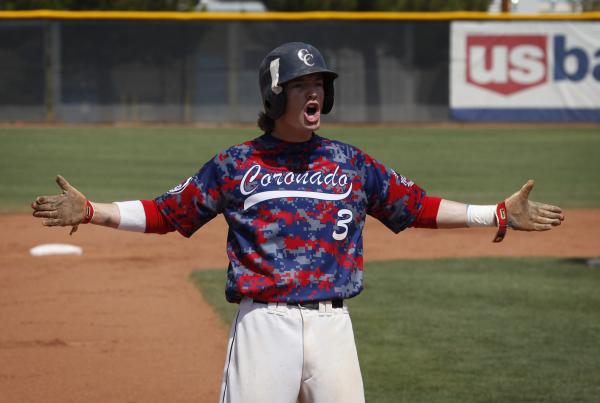 Coronado senior Chandler Blanchard got roughed up in his first state tournament start Thursday.
On Saturday, Blanchard made sure he would be remembered for something else.
The senior pitched a complete game on one day of rest and blasted three home runs as the Cougars beat Bishop Gorman 7-4 to win the Division I state baseball title at College of Southern Nevada, ending the Gaels' streak of seven consecutive state titles.
"It was redemption for me," said Blanchard, who lasted just two innings and gave up eight earned runs in a 9-7 loss to Gorman on Thursday. "I had to come back and help my team out and get this crucial win."
Blanchard did more than help his team. He put it on his back.
Despite throwing 51 pitches Thursday, Blanchard had plenty left in the tank Saturday, allowing three earned runs and striking out four in seven innings.
"He wanted the ball today after Thursday's performance," coach David Padilla said. "He asked for the ball, and he came out and was a bulldog all day."
Coronado (36-4) defeated Gorman 11-7 earlier Saturday to force the deciding game in the double-elimination tournament.
Blanchard yielded a run in the first inning, but quickly tied the game himself with an opposite-field homer to right in the bottom half. Gorman (33-9-1) retook the lead with an unearned run in the third and extended the advantage to 4-1 with two runs in the fourth.
But that was all the Gaels got against Blanchard, who allowed only three more hits. He got some help in the sixth when outfielders Miles Bice and Jackson Cofer made back-to-back diving catches.
"It's incredible that (Blanchard) could even pitch on one day's rest like that, then to pitch even better than he did two days ago. You've got to tip your hat to him," Gorman coach Nick Day said. "Sometimes no matter how good you are, somebody steps up and beats you."
Blanchard started a fourth-inning rally with a leadoff homer over the 400-foot sign just to the left of the batter's eye in center field to make it 4-2. The Cougars added runs on an RBI single by James Anderson and a sacrifice fly by Michael Pollex to tie the game.
Blanchard put Coronado ahead for good in the fifth when he destroyed an 0-and-1 pitch, driving it well over the fence in left-center field. He was 3-for-3 with four RBIs and finished the tournament 7-for-15 with five home runs.
"I was just trying to stay relaxed, because when I'm relaxed I tend not to overswing," Blanchard said. "When I overswing, I try to do too much. These were going to be my last at-bats, and I wanted to do something big for my team."
Blanchard also closed the game out on the mound. In the seventh, he struck out the first two batters before back-to-back singles by Cadyn Grenier and Michael Blasko brought the potential tying run to the plate.
Blanchard got Jerrel Latham, Gorman's No. 3 hitter, to ground out to Pollex at first to end the game.
"Chandler's been the go-to big guy all year long," Padilla said. "He really stepped it up today on the mound and at the plate. Three home runs in the championship game. Wow, that's incredible."
Coronado came out swinging in the first game, scoring nine runs in the second inning to take an 11-2 lead. The Cougars didn't have a hit after that inning, but their cushion was big enough.
"We knew we had to get on them early," Padilla said. "(Gorman's) backs weren't against the wall, and ours was. And we played like it today."
Day said dealing with the end of the state title streak was difficult for his players.
"The kids don't understand sometimes how hard it is to win in baseball," Day said. "What we've done for seven years is just hard to do, no matter how good you are. Seven times we've been lucky enough to come out on top, just be the better team that last day, and today we weren't."
Blanchard said stopping Gorman's streak was especially sweet.
"That's a good team, and they had seven years and it's our turn," Blanchard said. "We showed them how we play baseball."