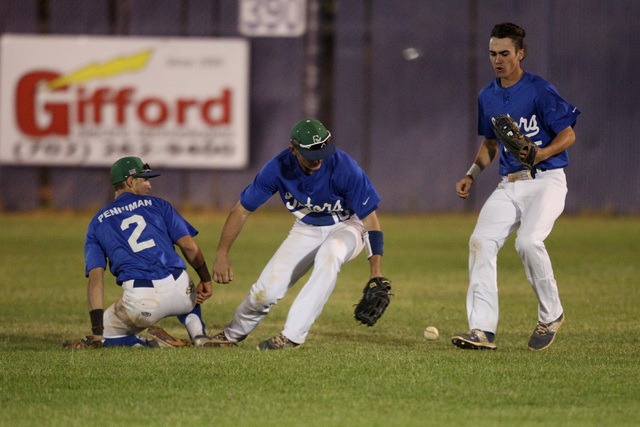 After a long playoff run that included a play-in game to get to the Division I state tournament, Arbor View's baseball team needed innings from starter Ben Cutting on Thursday.
The Aggies got much more than that.
Cutting threw a three-hitter as Arbor View topped Green Valley 7-1 at Durango to move into the winners' bracket final.
"We had to play a game on Monday and used a bunch of pitching on Saturday," Arbor View coach Jay Guest said. "For him to come out and throw a (complete game) like that and preserve our 'pen was awesome. He threw his best game of the year. It was exactly what we needed from him."
Cutting took a no-hitter into the fifth before yielding a two-out single to Jimmy Montiel. Cutting gave up a double to Jarod Penniman in the sixth and a single to Ty Burger in the seventh.
The only run he allowed was unearned and came home on a balk in the sixth after the Aggies had built a 7-0 lead.
The win sets up a rematch with Bishop Gorman at 4:30 p.m. today at Durango. The Gaels (30-3) beat Arbor View (27-10) twice Saturday to claim the Sunset Region title after the Aggies had upset Gorman earlier in the tournament.
"Saturday really humbled us," said Cutting, who struck out five with no walks. "We had a little magic Thursday against them and were thinking that we had it done. It humbled us a lot. Come tomorrow, I think we'll be a completely different team, and I think it'll be a good game. That's the game we want the most in state right now."
The game was scoreless through two innings, though Arbor View had runners in scoring position in both frames and left the bases loaded in the second.
But Ryan McHale hit a solo homer with one out in the top of the third to give Cutting a little breathing room.
"For quite awhile it was 0-0, and one mistake could have changed the game," Cutting said. "Luckily it went our way. We got the mistake, and we took advantage of it."
The Aggies got a two-run homer from Sam Pastrone with two outs in the fourth to push the lead to 3-0, then scored four in the sixth to pull away.
McHale got a three-run single on a shallow pop fly to center field that dropped between three Green Valley defenders with two outs. The runners were going on a 3-and-2 pitch, so all three scored easily.
McHale was 2-for-4 with four RBIs, and the home run was his fourth of the postseason.
Arbor View has hit eight homers in seven postseason games.
"I feel like Earl Weaver playing for the three-run home run all the time," Guest said. "But it's been working."
Green Valley (28-7) plays Reno (25-6) in an elimination game at 2 p.m., with the winner facing the Gorman-Arbor View loser at 7.
■ Bishop Gorman 10, Reno 2 — Both teams had runners in scoring position with no outs in the first. Gorman starter Jack Little got out of the jam, and the Gaels capitalized in the bottom of the inning to take control early.
"I just needed to settle down," Little said. "I told myself that I needed to minimize the damage on that one, and I got lucky."
Garrett Gouldsmith singled up the middle to start the game, and Ryan Boucher chopped a double over the third baseman's head to put runners at second and third with no outs. Little then struck out the next three batters.
"That's why Jack's our No. 1," Gorman coach Gino DiMaria said. "He got himself in a little bit of a situation, relaxed and did his job."
Gorman put Reno starter Brock Tsukamoto in a similar situation in the bottom of the inning when Cadyn Grenier walked, Beau Capanna singled, and a wild pitch moved runners to second and third with no outs.
But unlike Little, Tsukamoto was unable to get out of the jam, as Brandon Wulff delivered a two-run single to give the Gaels the advantage and help Little settle in.
"We scored in almost every inning," Little said. "When they put up runs like that, you have confidence that you can beat any team."
Reno was within 3-2 entering the bottom of the fourth, but Wulff's sacrifice fly made the score 4-2. The Gaels then scored five times in the fifth, highlighted by a two-run double by Cadyn Grenier.
"I preach that we want to score in every inning," DiMaria said. "We're capable of every game having that one big inning."
Wulff was 2-for-2 with four RBIs for Gorman. Matt Hudgins went 2-for-3 with two runs and an RBI, and Jordan Sadovia was 2-for-4 with a run.
Little pitched the distance, allowing one earned run on seven hits. He struck out eight and walked one.
"I felt like I was a little wild," Little said. "The runs helped me settle down, throw strikes and pitch to contact."
The walk was the first of the season for Little, who has thrown 45 2/3 innings.
"I did hit someone with a 3-and-2 count, but we don't count that as a walk," Little said.
Box scores: