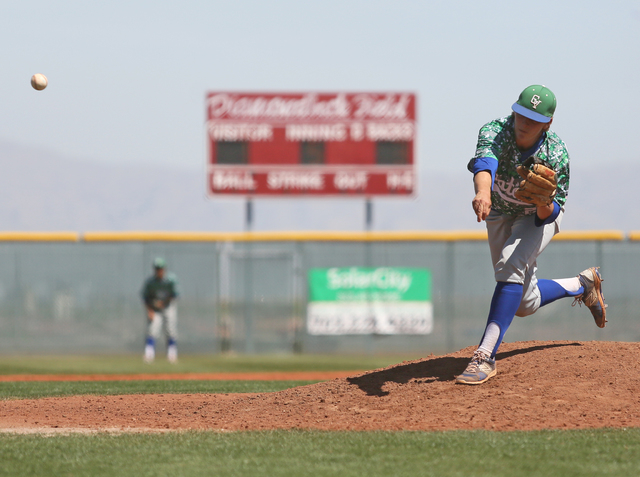 Nolan Kingham's right arm has made him one of the area's top baseball prospects.
The Desert Oasis senior looked awfully good with the bat Saturday.
Kingham was 4-for-4, including two fifth-inning home runs, as the Diamondbacks topped visiting Green Valley 10-1.
"I was pretty happy that I could kind of put my team ahead for sure and close the door on them," said Kingham, who played right field and first base. "It was a big win for us."
The sixth-ranked Diamondbacks (17-7) led 2-1 when Kingham stepped to the plate to lead off the bottom of the fifth. He drove a 1-0 fastball well over the fence in left for a home run.
Kingham stood at the plate for a few seconds to admire the shot before starting his slow trot around the bases, and the homer ignited an eight-run rally that put the game away and helped erase the memory of a 4-3 Northwest League loss to Arbor View on Wednesday.
"We had a pretty tough one on Wednesday against Arbor View, so it's nice to come out and score a few runs today, and it's a nice win for us," Desert Oasis coach Paul Buboltz said. "We've lost to these guys twice by a run each time the first two times we played them, so it's nice to get a win today."
Desert Oasis led 8-0 when Kingham came to the plate with two outs in the fifth, and he lined the first pitch he saw over the fence in left for a two-run homer and a 10-1 lead.
"He had a tough day on Wednesday, so it was nice for him to come back with a nice day today," Buboltz said of Kingham, who took the loss against the Aggies.
Though it was a nonleague game on a Saturday morning, Desert Oasis was able to hand the ball to one of its best pitchers, and senior A.J. Landis was sharp throughout. He allowed a run on four hits in six innings to move to 6-0.
"Every outing he's thrown has just been dominant," Kingham said. "He's a competitor. He's a team player, and he's just pitched his butt off."
Landis struck out five with no walks and needed just 65 pitches to get through six innings. He only topped 10 pitches in two innings.
"He throws a few pitches for strikes, and he gets ahead and hits his spots," Buboltz said. "That's pitching, right there. He's done a good job all year."
Kyle Fuentes was 2-for-4 with a run and an RBI, and Brett Brocoff went 2-for-3 with a run and an RBI for the Diamondbacks.
Gavin Morley was 2-for-3 with a double and a run for the fourth-ranked Gators (16-5).
Contact prep sports editor Damon Seiters at dseiters@reviewjournal.com or 702-380-4587. Follow him on Twitter: @DamonSeiters.
Box score:
Desert Oasis 10, Green Valley 1