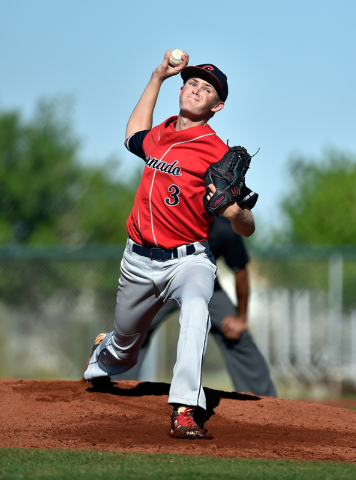 Coronado leadoff man Dante Glover stepped to the plate and attacked the game's first pitch Friday, lacing a double into the right-center field gap.
It was a sign of things to come for the Cougars.
Coronado had 13 hits and rolled to a five-inning, 13-1 victory at Spring Valley.
"We came out with a purpose today, and the kids looked good," Coronado coach David Padilla said. "They had good approaches at the plate and put the ball in play. They put up two runs in the first and four in the second, and that always helps."
Glover scored on an RBI single by Sterling Saltz, and Anthony Olheiser came home on a sacrifice fly for the early lead.
In the second, Olheiser hit a two-run single, and Saltz had a run-scoring single to key the four-run inning.
That was more than enough cushion for starter Zach Dunham, who allowed two hits in four innings.
"Our pitcher did a great job," Padilla said. "He came in and threw strikes, and that's all we asked of him."
Dunham struck out seven and walked two, both in the second inning when Spring Valley scored on an RBI single by Shayne Watkins.
"He had a little trouble in the second, but he got back to his mechanics and came back in the third and went 1-2-3," Padilla said. "Then we had the big inning, and from there we just ran away from them a little bit."
The Cougars batted around in the third, scoring five runs, to put the game away. Olheiser finished 3-for-3 with three runs and three RBIs, and Saltz was 2-for-3 with two runs and three RBIs.
Coronado started seven seniors Friday, while Spring Valley has just two seniors on its roster. The Grizzlies started a freshman and four sophomores.
"It's a difference in teams," Padilla said. "We have guys that are a year seasoned at this level. Coach (Paul) Bassett over there is a great coach, and I love him, but his kids just aren't at the level quite yet. But they will be. They're a scrappy team. They got us once already this year."
Eleven Coronado players had a hit in the team's final tuneup before starting Southeast League play Monday against Foothill.
"I think we match up pretty well with everybody in league," Padilla said. "We have quality starters. If we can play catch, we'll be OK."
Contact prep sports editor Damon Seiters at dseiters@reviewjournal.com or 702-380-4587. Follow him on Twitter: @DamonSeiters.
Box score: