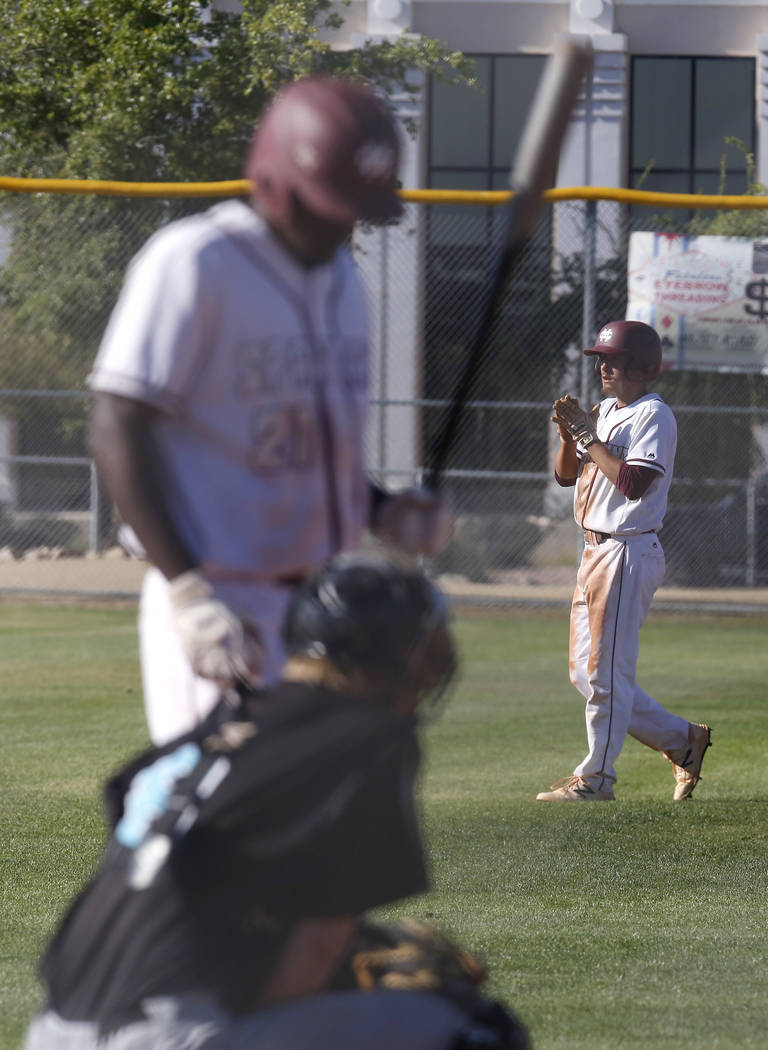 Cimarron-Memorial baseball coach Mike Hubel attributes his team's recent surge to improved pitching.
The Spartans received another gem Thursday.
Derek Decolati scattered three hits over five innings, and the host Spartans pulled away late for a 9-1 victory over Silverado in a nonleague game.
"Pitching is what's been good for us lately," Hubel said. "We had three games this week and pitched well in two of them, and it shows when you win ballgames."
Decolati threw 44 of his 60 pitches for strikes and didn't allow a runner past second base. The right-hander fanned the side in the fifth inning and finished with six strikeouts.
"He pitched in and out, and up and down, and moved the ball around. It makes it tough to hit," Hubel said. "He's a little, three-quarter slinger, and dropping down on the righties like that, it makes it harder on them."
Zach Culver went 3-for-4 with a double and two RBIs, and Trevor Doyle drove in two runs to lead the Spartans (15-9), who have won eight of their past 10 games.
Decolati was 2-for-3 with a double and an RBI, and Daniel Valdivia and Kenny Wexler each had two hits, as Cimarron banged out 16 hits against seven Skyhawks pitchers.
Jackson Folkman's and Valdivia's aggressive base running helped Cimarron score twice in the third inning, and the Spartans erupted for four runs in the fifth.
Culver's run-scoring single gave Cimarron a 5-0 advantage, and Wexler's double to right that got lost in the sun scored Seth Hoffman to make it 6-0.
Jack Kannon, Doyle and Culver added run-scoring singles in the sixth for the Spartans.
"You're always looking to take extra bases on people and put pressure on the defense," Hubel said. "It got us some extra runs when we needed them."
Kevin Pindel was hit by a pitch to lead off the seventh inning and eventually scored on a groundout by Nikolas Cortez for Silverado (10-12) to break the shutout.
"It's a confidence booster is what it is," Decolati said. "This gives us a lot of good momentum going into Arbor (View) next week. Hopefully we can continue with our hot bats and good pitching."
Contact David Schoen at dschoen@reviewjournal.com or 702-387-5203. Follow @DavidSchoenLVRJ on Twitter.
Box score:
Cimarron-Memorial 9, Silverado 1