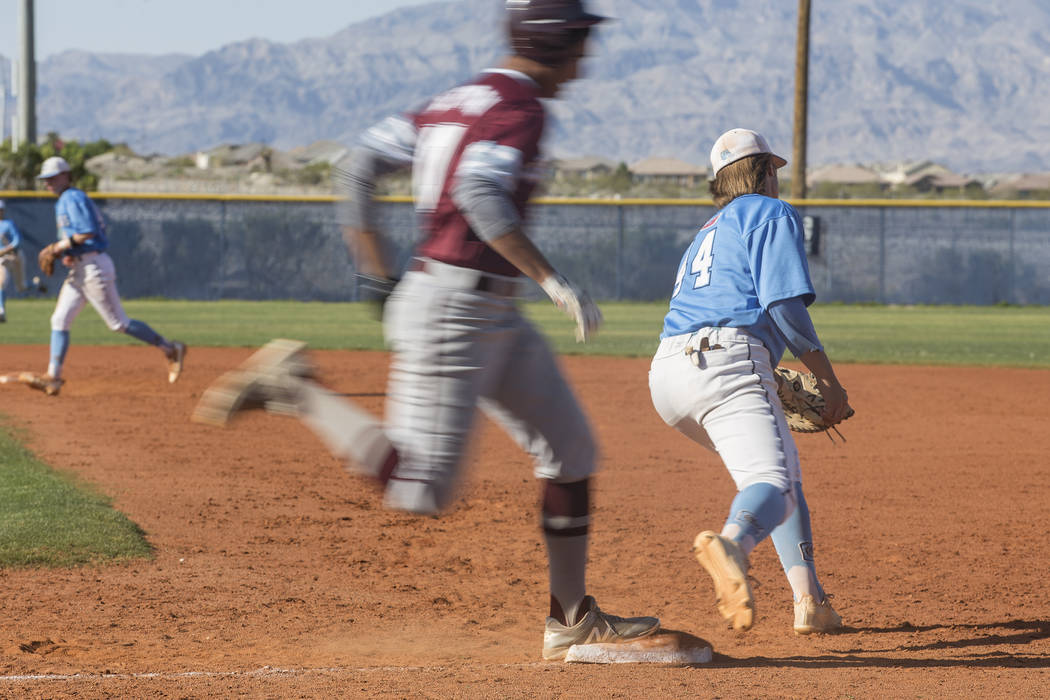 In the end, it doesn't really matter how many base runners a pitcher gives up, so long as they don't come around to score. Centennial's Nik Dobar can attest to that.
The senior right-hander gave up 10 hits and a walk against Cimarron-Memorial, but none crossed the plate. Dobar threw 85 pitches in a complete game to give the Bulldogs a 3-0 home baseball victory Friday.
"We've always had an approach on the mound just to throw strikes and the hits are going to happen," Dobar said. "We trust that if we keep throwing strikes, we'll get the outs, and it ended up working out today."
Of Cimarron's 11 runners, Centennial (17-5, 11-1 Northwest League) erased two by double play, one on a caught stealing and stranded five in scoring position. Dobar worked in his off-speed pitches effectively and threw 18 of 29 first-pitch strikes for five strikeouts.
"He was pounding the zone early and often, kept on getting ahead in counts and working ground balls," catcher Michael Jones said.
In a pitchers' duel, one mistake is typically the turning point. That was the case Friday, but it wasn't a mistake by the Spartans' pitchers, and it was Jones who took advantage.
With two outs in a scoreless game in the first, Jones poked a lazy fly ball to right field. But with the sun blasting in the eyes of the right fielder, the ball got away and Jones ended up at third with a sun-kissed triple. His courtesy runner scored the first run on Zachary Hare's single.
"I thought it was going to be a routine catch because I didn't get the barrel on it," Jones said. "But the sun helped us out a little bit. It started it though. Started a rally."
Jones also singled in the sixth and reached third on an error by the right fielder. His courtesy runner scored on Hare's second RBI, a sacrifice fly to center.
Lasith Narasinghe was 3-for-3 with a double for the Spartans (13-9, 6-6), and Trevor Doyle, Cameron Stafford and Daniel Valdiva each had two hits.
Contact Justin Emerson at jemerson@reviewjournal.com or (702) 387-2944. Follow @J15Emerson on Twitter.
Box score:
Centennial 3, Cimarron-Memorial 0