Basic senior right-hander C.J. Dornak has posted some serious numbers in his three-year varsity career.
His attitude in the dugout is not so serious.
Dornak will look to keep things light in the dugout and lead the way on the mound as the Wolves look for their third consecutive state baseball title when the Class 4A tournament begins Thursday in Reno. Basic (30-5) plays Reno (32-5) at 1 p.m. at Bishop Manogue.
"On the bench, I like to mess around with the players, just try to keep them loose because I don't like it when it's a super serious tone playing," Dornak said. "I like to have the guys loose, because in general when you're playing tight, you don't play the best you can.
"The serious tone, I think it brings down the mood."
Dornak is far more than the team's jester, he's also the ace and most experienced pitcher. He's 7-0 this season with two saves a 0.72 ERA. He has 69 strikeouts in 48 2/3 innings. For his career, he's 20-1 with six saves and a 0.67 ERA.
He also brings plenty of state tournament experience, as he's made four appearances and picked up two wins during the team's two title runs.
"He's not going to waver as far as getting rattled," Basic coach Scott Baker said. "He's very composed. He was composed as a sophomore."
Basic has several players familiar with playing in the state tournament, and that could give the Wolves an advantage. Along with Dornak, Garrett Giles, Christian Rivero and Nick Thompson have played key roles in the past two state tournaments.
"That's probably the biggest thing we have is just the experience," Dornak said. "Especially with all the younger guys that don't know what it's like.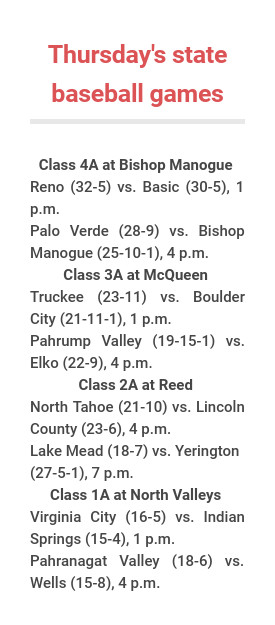 "We know how to play. It's no different than a regular baseball game during the season. We just have to play the best we can."
While Dornak will lead the pitching staff, Giles is back to anchor the lineup. He's batting .495 with a team-high 44 RBIs.
"Giles is the best hitter we've got," Baker said. "Giles has been so steady. He's got two years of state titles, an American Legion World Series title, so there's another guy that we have that's got the experience that's for sure going to be able to help us in the big moments."
Senior Jesse Fonteboa, a transfer from Bishop Gorman, didn't play on the team's two state title teams. But he was part of the American Legion World Series squad and will help lead the offense. He's hitting .409 with four homers and 35 RBIs, and also has posted a 6-2 record with a 2.68 ERA.
"It's pretty cool, especially being a senior and leading this squad," Dornak said. "As coach says, seniors can take it as far as they go."
Contact prep sports editor Damon Seiters at dseiters@reviewjournal.com or 702-380-4587. Follow @DamonSeiters on Twitter.