Maybe it's because they are a little more relaxed or a little more confident. But there's no question the players from Bonanza High School have more success with their summer team.
After struggling through a 9-20 high school season, Bonanza — or the Southern Nevada Bengals as they are known during the summer — rolled to a 12-4 record in Connie Mack American play and are looking for their second straight state title when tournament competition begins Friday.
Coach Sean DeSoto believes in giving his players opportunities during the summer. But if he doesn't like their effort, he'll turn to his bench.
"I told everybody at the beginning that we're going to work this as a team," DeSoto said. The guys in the dugout are hungry to play."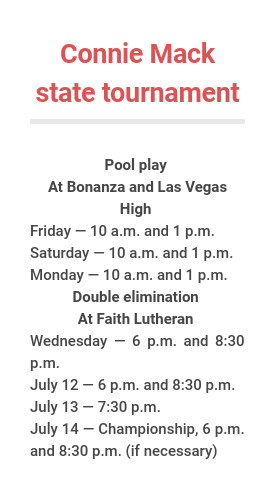 DeSoto is not Bonanza's coach but heads up the Bengals' Connie Mack squad. He credits the summer success to a more laid-back attitude and equitable playing time.
The players seem to agree.
"Sean makes it easy on us," infielder Robert Shook said. "We come out in summer ball and do great."
Shook was on the team that won last year's state title, and after graduating in the spring, knows this is his last to chance to play baseball with many of his high school teammates.
Infielder Makai DeSoto, on the other hand, is just getting started. Makai is Sean DeSoto's nephew and did not play on last year's summer team. But after seeing its success he wanted in.
He just finished his sophomore year, and he likes seeing a team at the top of the standings, winning league titles in June and July, and, particularly, how other teams focus on trying so hard to stop them.
"In summer you see they have their best pitcher on the mound, their best shortstop, everyone. They're trying to beat us," Makai DeSoto said.
The Bengals begin their quest for a repeat Friday at 1 p.m. against the Nevada A's, Arbor View's summer team.
And in the mind of the Bengals, their goal is clear.
"Hopefully, we'll go back to back," Shook said.
Contact Justin Emerson at jemerson@reviewjournal.com or (702) 387-2944. Follow @J15Emerson on Twitter.