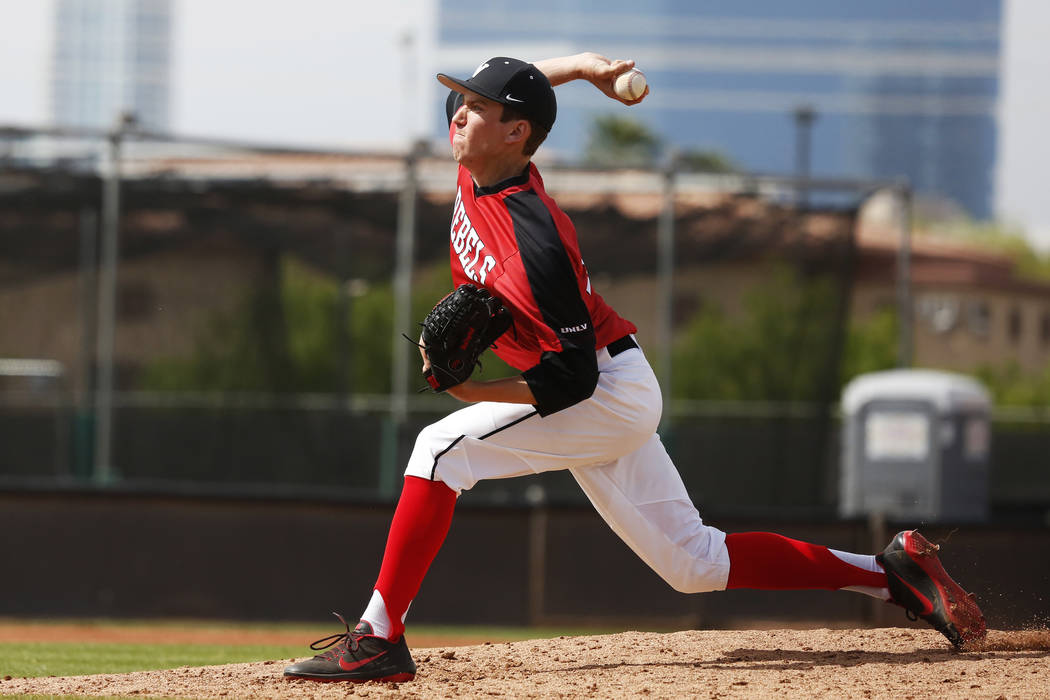 Bishop Gorman's Austin Wells prevented Nevada from being shut out.
Wells was the only Nevada high school player taken in the MLB Draft, going to the New York Yankees in the 35th round, 1,057th overall, Wednesday. A Nevada prep player has been chosen every year since 1985.
The senior batted .527 with 20 doubles, six triples and four home runs this past season, during which he was the Gaels' designated hitter. He scored 46 runs and knocked in 46 and drew 34 walks to 17 strikeouts.
Wells was drafted as a catcher, but he played the position only one inning in his final two seasons at Gorman. He was ranked No. 160 on MLB.com's predraft rankings but slid in the draft after reports about an arm injury, as he has not thrown competitively in a year. He has signed with Arizona, where his father, Greg, played, and still plans to play at the university.
Wells was the 2016-17 Gatorade Nevada Baseball Player of the Year and was selected to the Under Armour All-America Baseball Game last summer.
Former Desert Oasis and current Texas pitcher Nolan Kingham was selected by the Atlanta Braves in the 12th round, 352nd overall.
UNLV teammates Nick Ames (Detroit Tigers), Nick Rodriguez (Seattle Mariners), Bryan Menendez (Arizona Diamondbacks) and Trevor Horn (San Francisco Giants) were selected Wednesday. Ames went in the 15th round, 435th overall. Rodriguez went in the 22nd round, 658th overall. Menendez went 729th overall in the 24th round, and Horn went in the 39th round, 1,156th overall.
Dixie State's (Utah) Tanner Howell went in the 35th round, 1,054th overall, to the Minnesota Twins. And College of Southern Nevada's Ryan McDonald was selected by the Giants in the 37th round, 1,096th overall.
Contact Justin Emerson at jemerson@reviewjournal.com or (702) 387-2944. Follow @J15Emerson on Twitter.
MLB Draft
Las Vegas Valley players chosen in the MLB Draft:
— Oregon State SS Cadyn Grenier (Bishop Gorman), first round (37th overall), Orioles
— UNLV OF Kyle Isbel, third round (94th overall), Royals
— College of Southern Nevada RHP Joey O'Brien, sixth round (178th overall), Mariners
— Loyola-Marymount 3B Niko Decolati (Cimarron-Memorial), sixth round (186th overall), Rockies
— UNLV RHP Alan Strong, 10th round (300th overall), Rays
— Texas RHP Nolan Kingham (Desert Oasis), 12th round (352nd overall), Braves
— Dixie State RHP Tanner Howell (Boulder City), 35th round (1054th overall), Twins
— Bishop Gorman C Austin Wells, 35th round (1057th overall), Yankees
— CSN RHP Ryan McDonald, 37th round (1,096th overall), Giants
— UNLV RHP Trevor Horn, 39th round (1,156th overall), Giants