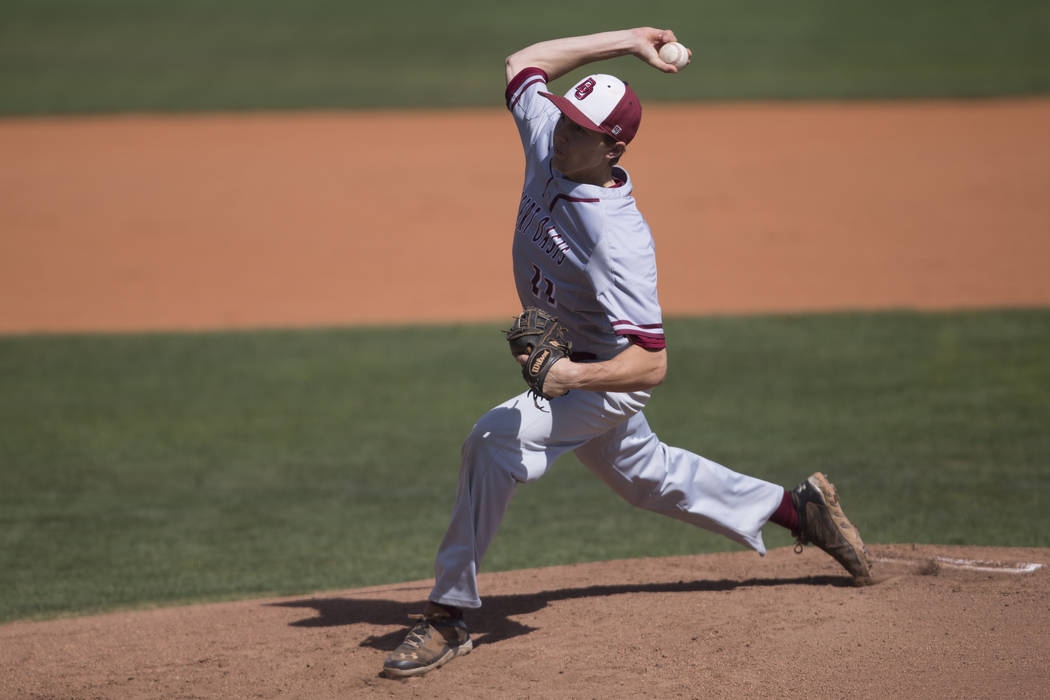 Baseball can be a funny game. Take Saturday's contest between Bishop Gorman and Desert Oasis. For five innings, the Gaels could do virtually nothing off Diamondbacks' starter Brett Brocoff.
But once Brocoff exited after five, it was a whole new ballgame. The Gaels rallied for seven runs in the sixth inning to stun Desert Oasis and win 8-6 at home.
"To come against a team like DO, and to come back, shows the character of the team," Gorman coach Gino DiMaria said. "This year there's going to be a lot of games like that, but these kids will never quit. Ever."
The comeback started just as any coach would draw it up: with the leadoff man. Down 6-1, senior second baseman Nick Israel singled to start the sixth for Gorman (5-1, 4-0 Southwest League).
What followed was a 12-batter, seven-hit, seven-run frame that saw Israel smack two hits, including an RBI double in his second at-bat of the inning. He finished 2-for-4 with a walk, a run scored and an RBI.
"My mentality is just get on base, any way," Israel said. "That's my job is to get on base, and everyone follows after that."
Not to be outdone, sophomore third baseman John Gaughan had quite the game of his own.
He doubled in the third, then in the sixth drove a two-out double past the diving glove of the Diamondbacks left fielder and into the corner to tie the game.
Gaughan scored on a single by the next hitter, junior Tyler Curtis, to give the Gaels their first lead.
"We came out and got the 'W' and that's all that matters," Gaughan said.
While Brocoff was in the game, it seemed like the Diamondbacks (10-2, 6-1) were going to cruise to victory. The senior right-hander pitched five innings and allowed just three hits and one run, a solo homer to senior Nick Hernandez, and struck out five.
"We were hitting the ball hard off him, just right at guys," Israel said.
The Desert Oasis offense couldn't be stopped early, either. They scored in each of the first three innings, including utilizing two squeeze plays in the second, and seized a 6-0 lead after 4½.
But Hernandez's homer got the Gaels on the board and Brocoff left after completing the inning. Hernandez reached in all three of his plate appearances, with two walks as well. He scored twice.
Junior Jack Kirvin was able to put out the flames for the Gaels, pitching 1⅔ innings of scoreless relief after taking over in the fifth and registering the win. Hernandez got the save after pitching to one batter and inducing a game-ending double play.
Junior Cole Schaefer was 2-for-4 with a double, an RBI and a run scored for the Diamondbacks.
Shadow Ridge 9, Las Vegas 2 — At St. George, Utah, Jesse Meyer was 3-for-3 with a grand slam and five RBIs as the Mustangs beat the Wildcats in five innings at the Texas Roadhouse Classic.
Trent McGregor went 2-for-2 with a double and three runs for Shadow Ridge. Corbin Wright didn't allow an earned run in three innings and struck out six to get the win.
Osvaldo Bernabee was 1-for-2 with two runs for Las Vegas.
Shadow Ridge 9, Salem Hills (Utah) 7 — At St. George, Utah, Justin Lee was 2-for-3 with two runs and two RBIs to lead the Mustangs over the Skyhawks in the Texas Roadhouse Classic.
Noah Soltero was 2-for-2 with two doubles, a run and an RBI, and Trent McGregor was 2-for-3 with a run and an RBI for Shadow Ridge.
Nick Erickson went 2-for-3 with a run, and Dylan Baker had a home run and two RBIs for the Mustangs.
K.C. Philippou allowed two hits in four scoreless innings to get the win. He left with an 8-0 lead before Salem Hills rallied for six runs in the fifth to make it interesting.
Las Vegas 7, Springville (Utah) 6 — At St. George, Utah, the Wildcats scored four runs in the bottom of the sixth to earn the six-inning win at the Texas Roadhouse Classic.
Lincoln County 5, Milford (Utah) 3 — At Panaca, the Lynx scored all of their runs in the first three innings and held on to defeat the Tigers.
Box scores:
Bishop Gorman 8, Desert Oasis 6
Shadow Ridge 9, Salem Hills (Utah) 7