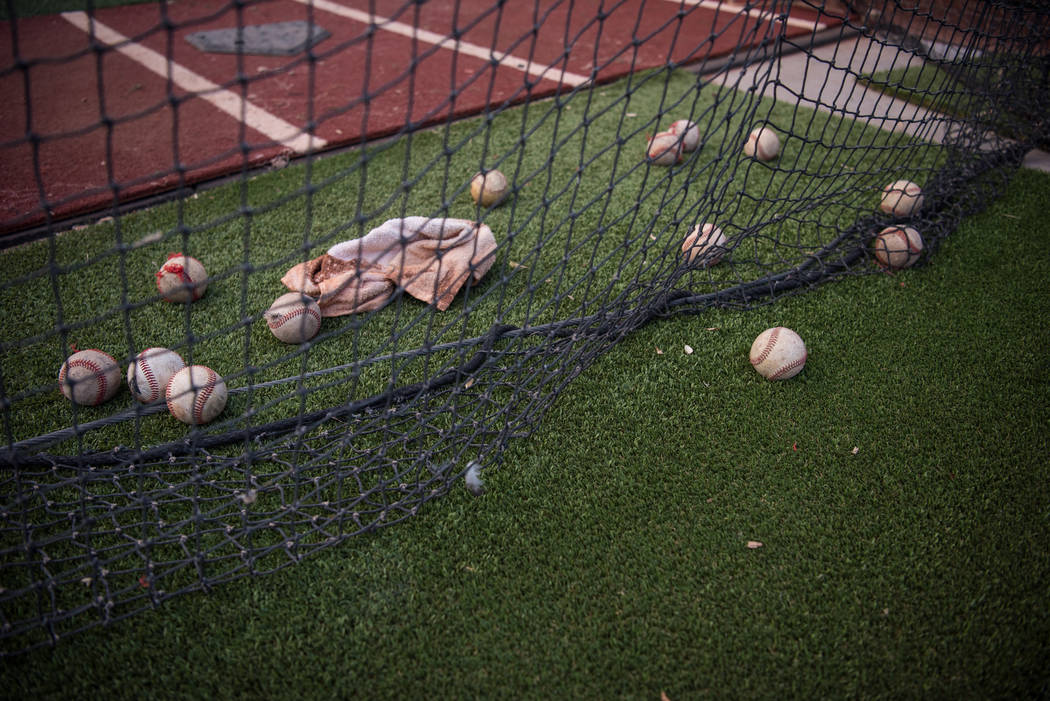 Las Vegas Bulldogs coach Pat Casale made an important phone call before Thursday night's game in the American Legion state baseball tournament at UNLV. He needed Kian Wilbur to make his first start of the summer, in a game that could have ended the Bulldogs season with a loss.
"I've had Kian since seventh grade, and he's always been the smallest guy on the team," Casale said. "He's just one of my guys, he's always been a fighter and I said, 'I need ya to pitch tonight' and I told him I believed in him and to go out and do the best he can. I wanted five innings. A sixth was a bonus."
Wilbur (1-0) was masterful through six scoreless innings to earn the win after limiting the second-seeded Las Vegas Aces to just four hits while striking out two to lead the Bulldogs to a 9-5 win. Miles Brown earned the save after throwing three innings of relief, allowing three runs on four hits and a walk.
The victory handed the Aces their first loss of the tournament, which means the teams will meet at 7 p.m Friday in a contest that will send the winner to Saturday's championship game against the Southern Nevada Blue Sox. The Blue Sox advanced with a 12-0 win over the Las Vegas Hawks on Thursday.
"That's what kept me going, was the win-or-go-home situation," Wilbur said. "Pitch after pitch I tried to hit spots and locations. I trust my defense, it's a great team I play with. I do anything for those kids, I love them."
Austin Kryszczuk led the Centennial-based Bulldogs at the plate, going 2-for-2 with a home run, a double, two walks, two RBIs and four runs. Adam Hazen was 2-for-3 with a run and two RBIs.
The Bulldogs struck first, putting two on the board in the top of the second inning, when Kryszczuk drove a pitch over the left-field wall for a two-run home run. They added three more in the fourth inning, as Kristopher Bow led off with a single, Kryszczuk drew a one-out walk and both moved up a base on a throwing error. After Hazen fouled out to first base, Michael Jones walked to load the bases. Bow scored on a wild pitch, and Kryszczuk and Jones came home on a single by Nikolaus Dober, giving the Bulldogs a 5-0 lead.
"Nobody needed that more than Kryszczuk," Casale said. "Good players go in slumps. He was hitting the ball hard and they were catching it, and all of a sudden, he started swinging bad because he was trying to make adjustments. Kryszczuk works harder than anybody, and he paid off tonight."
The Bulldogs pushed three across in the top of the sixth. The Aces answered by plating four in the bottom of the seventh, highlighted by a three-run home run by Chaison Miklich, but couldn't complete the comeback.
Miklich went 2-for-5 three RBIs. to lead the Aces.
Southern Nevada Blue Sox 12, Las Vegas Hawks 0 — Jack Wold was 2-for-3 with a home run and four RBIs to lead the top-seeded Blue Sox.
David Hudleson, Nick Thompson, Roger Riley, and Ryne Nelson each went 2-for-4, with Hudleson, Thompson and Riley each scoring twice. The win moved the Blue Sox (48-7) into the championship game at 7 p.m. on Saturday.
Wold's homer was his 19th of the summer, and he has 104 RBIs.
Anthony Avila (4-0) fired five shutout innings to earn the win, as he scattered four hits, walked two and struck out five. Christian Sanford threw two innings to complete the shutout.
The Blue Sox used a six-run third to blow the game open, with all their runs being scored with two outs. After Garrett Giles and J.J. Smith both lined out to start the bottom of the frame, Huddelson got aboard with a bunt, Thompson hit a sharp single up the middle and John Howard Bobo walked to load the bases. Riley was hit by a pitch, and that scored Huddleson. A wild pitch scored Thompson, and a single by Nelson scored Bobo. Wold then blasted a three-run shot over the right-center field wall, giving the Sox a 10-0 lead.
Dax Fellows was 3-for-4 to lead Silverado (16-13).