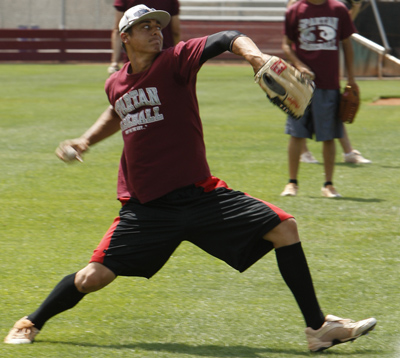 Until last Friday, it was a foregone conclusion for many:Bishop Gorman would win its fourth straight Sunset Region baseball championship, followed by a fourth consecutive Class 4A state title.
But Cimarron-Memorial showed things might not be that easy for the Gaels.
The Spartans' 10-2 win over Gorman in the Sunset title game changed some opinions, and showed that the state tournament might be more interesting than many thought.
"It was pretty good to just show that we are for real and we deserve to be in the spot we are in," said senior outfielder Kris Kaplan, who leads the Spartans with a .536 average and 12 homers.
Sunrise Region champ Green Valley (25-10) plays Gorman (37-4) in the opening game of the double-elimination tournament at 3 p.m. Thursday at Morse Stadium on the campus of the College of Southern Nevada.
Northern champ Douglas (30-7-1) takes on Cimarron (31-5) at 6 p.m.
The tournament continues through Saturday.
"Hopefully, it opened up a lot of eyes," Cimarron coach Mike Hubel said of the Gorman win. "They're a tremendous ball team. It's going to take more than that one win to take state.
"We're going to have to beat them once or twice again. That's going to be a feat that's tough to handle. But we've proved that we can do it once."
Senior catcher Kaz Smith said winning the region title was especially nice.
"Not just beating Gorman, but having the title as Sunset champions come back to a public school," Smith said. "Gorman's had it for the last three years in a row. It was just exciting to take it away from them. Everyone was rooting for us."
Gorman handled Cimarron easily the first time the team's met, beating the Spartans 12-2 in five innings.
Senior shortstop/pitcher Bradley Oswald said the team was more relaxed the second time against Gorman.
"The first time we played Gorman, we got really hyped up," said Oswald, who is 6-0 with a 0.84 ERA. "We've just got to settle down and play baseball. We can't let emotions stress us or let anything distract us from how we know how to play."
Smith said the Gorman win opened the eyes of Cimarron's players, as well.
"That was a really big win for us," Smith said. "It kind of boosted our confidence even more going into the state tournament. It just shows that we can hang with the big teams, too."
After ending Gorman's 35-game winning streak, the Spartans must perform another difficult task: putting that game behind them and focusing on the present.
"That's done with, you've got to move on to bigger things," Oswald said. "That's what this week's for. We've got to focus all of our attention on this weekend."
Cimarron's roster features 11 seniors, many of whom are in their third year on the varsity.
And Hubel said there would be no better send-off for those seniors than a state title.
"This is it for these seniors," Hubel said. "They'll always remember this and there's no better way to go out than a winner. I hope we can accomplish that goal."